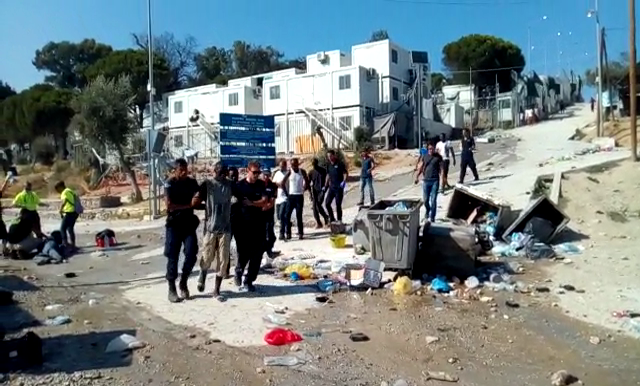 PRESS RELEASE
35 individuals were arrested on Tuesday 18th July 2017 in Moria Refugee Camp in Lesvos, Greece, after clashes with riot police using teargas and violence, which followed the peaceful protest refugees held in the morning. The 35 refugees who were arrested in Moria Camp on Tuesday have preliminary hearings tomorrow and Saturday, the 21st and 22nd of July.
Many of those arrested were not even part of the morning's peaceful protest or clashes between a handful of protesters and riot police, leading observers to conclude that they were arrested simply due to their race and location in the camp when raids and arrests took place. Many of the 35 were brutally beaten by the police; some still have visible injuries, many require medical attention, and one remains hospitalized. Their access to food, water and medical care has been restricted, and many remain without shoes. All 35 face exaggerated criminal charges including arson, attempted assault, resisting arrest, rioting and disturbing the public peace.
These charges carry disproportionately heavy sentences if convicted, and could result in exclusion from the right to international protection and deportation to the countries they have fled because of dangers to their life and/or liberty. There is mounting evidence of excessive use of force by the police on Tuesday, and reports of ongoing police violence against the 35 currently in custody. However, given the extremely limited number of lawyers on the island, and the 48-hour timeline, the Moria 35 face serious criminal charges without access to meaningful due process. Legal Centre Lesvos strongly condemns these arrests and the violence that preceded them.
Although the hearings are not open to the public, we call on all concerned individuals in and near Mytilene to show solidarity with the accused by being a peaceful presence outside the courthouse tomorrow and Saturday from 9am. Follow @lesboslegal on Twitter for updates.
Για τα γεγονότα στις 18-07 στο Kέντρο Kράτησης της Μόριας Λέσβου (Translated)