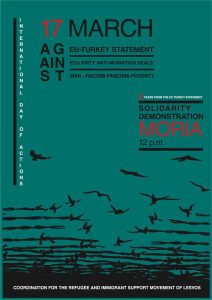 PRESS RELEASE: Two years after the EU-Turkey deal came into force, on Saturday 17th March the Legal Centre will join a demonstration, in a show of solidarity with the thousands of migrants who are forced to live in inhumane conditions in Moria Detention Centre and in the open air prison of Lesvos. Due to recent police raids and increased tensions and fear of police repression, the demonstration will not be held as originally planned outside Moria Detention Centre, but will be moved to the centre of Mytilene in Sappfous Square. Now, more than ever, solidarity is needed to defend migrants' rights against the EU's dirty anti-migration deals, which have led to preventable deaths at Europe's borders and continued marginalization and criminalization of migrants' lives.
As a legal organization, we work to defend migrants and refugees' right to residency in Greece and across Europe. However, we are conscious that we are working in a political and legal context where these rights are being systematically denied. Nearly one hundred people are currently detained inside Moria, prohibited from leaving the Camp since arrival, with the intention that these individuals will have their cases processed and they will be deported to Turkey without ever freely setting foot in Europe.  Police carry out discriminatory raids and controls against migrants, the most recent early this morning in Moria Camp. Trumped-up criminal charges are also regularly brought against migrants, including in the case of the Moria 35, which will go to trial next month. Access to justice is denied to asylum seekers through a meaningless review of rejected claims by Appeals Committees that reject 99% of cases, and a prohibitively expensive appeals procedure in court. And millions of people are prevented by EU-supported Turkish authorities from leaving unsafe countries such as Turkey and reaching Greece.
It is essential that as lawyers we work not only to advocate for individual refugees' rights to protection in Europe, but to work towards accountability for the ongoing assault on migrants' lives. As lawyers we must also work to defend the right to organise and demonstrate against these anti-migration policies without fear.
For these reasons we join Saturday's demonstration, with the Coordination for Refugee and Immigrant Support Movement of Lesvos, together with actions held throughout Europe on this International Day of Action against Racism and Fascism.
For further information please use the links below or contact us via:
info@legalcentrelesbos.org or call Lorraine Leete on +30 695 507 4724