For over three years we have been reporting on the systematic denial of rights to migrants on Lesvos, and each report includes a laundry list of violations that only seem to worsen over time. The containment policy – at first opposed by UN agencies, NGOs and civil society – has become all but the norm in Lesvos.
Since the start of the year, there have been 45,500 arrivals to Greece, with approximately 18,000 arriving by sea from Turkey in August and September alone. Currently, over 14,000 people trapped on Lesvos are living in inhumane living conditions as a result of the 2016 EU-Turkey Statement, and the legislated containment policy that stipulates that asylum seekers cannot leave the Greek islands. The increase in new arrivals has coincided with a newly elected right-wing government in Greece who won on an anti-migrant platform that is creating an even more hostile atmosphere for asylum seekers on the island 'hotspots'.
This combination has exacerbated the already desperate situation for migrants on the island, where human rights continue to be trampled at every instant.
1. Rising death toll inside Moria Refugee Camp Tragic but Predictable Result of Illegal Containment Policy
The deplorable living conditions inside the camp, now over four times its capacity, have resulted in the deaths of at least three people seeking international protection in the last months.
On 24 August, a 15-year old boy was killed and two were others seriously injured inside the so-called 'safe zone' of the camp, an area designed to protect unaccompanied minors, but which is overcrowded with limited access to needed services, resulting in raised tensions and frustrations. Despite previous warnings, the Greek authorities failed to comply with recommendations to transfer unaccompanied minors to more appropriate facilities that would ensure their safety.  Today, over 1000 unaccompanied minors are trapped in Lesvos.
On 19 September, a five year old boy was killed by a truck just outside of the Moria camp. He had been playing on the roadside, hidden from view in a cardboard box.
On 29 September, an electric fire broke out inside the camp, resulting in the death of at least one woman and destroying eight containers. The aftermath of the fire and the frustration over unsafe conditions, continued imprisonment on Lesvos island, and lack of transparency and accountability from authorities regarding the fatal fire have led to daily peaceful demonstrations by residents. These tragic deaths are not coincidental or accidents, but instead a direct consequence of EU policies that have created "hotspot" camps such as Moria Camp.
The 'geographical restriction' imposed on asylum seekers in Lesvos have directly created the inhumane conditions inside Moria Camp that are in abject violation of Article 11 of the Recast Reception Conditions Directive 2013/33/EU, which obligates States to provide "standards for the reception of applicants that will suffice to ensure them a dignified standard of living." The conditions inside Moria Camp are far from dignified and fail to meet even the most basic human needs.
2. Insufficient Support for Individual Transfers to the Mainland
On 2 September the authorities began the transfer of 1500 people to the Nea Kavala Camp in Northern Greece. As often happens with mass transfers from the Greek islands to the mainland, individuals and families are given only a few hours to pack their belongings, pack up their lives (many people have been living several months or over a year in Lesvos), and take the ferry to an unknown destination. People describe being shipped off of Lesvos like cattle. 
Shortly after the transfer, residents began to report on the dire conditions of the camp including a shortage of tents and a lack of proper infrastructure to meet the basic needs of residents, such as electricity or water. In addition, the remote location of the camp means that people are left isolated without access to important medical and legal services. They are also exposed to extreme weather conditions which will only worsen as the winter arrives.
These transfers are also occurring without taking into consideration family circumstances, leading to the separation of families:
One individual, who had traveled together with his elderly mother from Afghanistan to Greece, had to make the difficult decision of allowing his mother to travel to the mainland when offered accommodation there, and remaining here in Lesvos, as he does not have permission to leave the island. He has subsequently lost contact with his mother and does not know where she has been transferred to.
Another individual, who had been receiving psycho-social support from an NGO in Lesvos and had been prescribed with anti-psychotic medication, was transferred to a camp where he could not access medical care. He has therefore been unable to continue the treatment he started on the island.
One of the new measures announced by the government after the emergency meeting of the Citizen Protection Ministry on 1 September was that thousands of asylum seekers would be transferred within two months to thirteen camps apparently under construction on the mainland. Greece's Ministry of Defence has presented a list of unused military facilities on the Greek mainland which could be transformed into new sites for housing several thousand refugees. However, there is currently no evidence that these structures are under construction. The lack of infrastructure on the camps is deeply concerning as winter is fast approaching.
The Reception Conditions Directive 2013/33/EU obligates Greece to provide adequate housing, health care, and living conditions to asylum seekers. If Greece is unable to meet its obligations, then those seeking international protection should not be restricted to Greece and should be granted freedom of movement within Europe.
3. Legal Updates: Changes in European Asylum Support Office (EASO) Practices Continue to Deny Asylum Seekers Due Process
In the past month, EASO announced it would only carry out interviews under the 'border procedures' in Lesvos, and all those referred to the normal procedure must register at the nearest asylum office in order to continue their procedure. Often individuals are then scheduled for their interviews several years in the future.  One of the only ways individuals are referred to the normal procedures is if they are designated vulnerable. This means that that all individuals who have been designated vulnerable, are likely to have their procedures further delayed under these new EASO practices, despite a provision which provides that the cases of vulnerable individuals should be prioritized, under Article 51(6), 4375/2016. This change has caused further confusion and uncertainty for individuals, as it is not clear when and if geographic restrictions will be lifted for individuals whose vulnerability is not recognized until their interview. Together with other legal actors, we will continue to work to clarify the impacts of this change in policy and to advocate for due process throughout the asylum procedure.
In the past month, many individuals who had already been designated as vulnerable had to pay for tickets back to Lesvos (approximately 100 Euros round-trip) for previously scheduled interviews. If they did not return, they risked having their asylum case closed, which could ultimately lead to their arrest and deportation. After traveling back to Lesvos and appearing for their interviews, they are notified that they must return to the mainland and register for their interview at the nearest asylum office – almost always scheduled for several years in the future.
While vulnerable individuals are having interviews scheduled several years in the future, those who are still in the border procedure in Lesvos are having their interview dates advanced with little or no notice. Several individuals who accessed the Legal Centre were given less than 24 hours notice of an interview, in contrast to Article 52, 4375/2016, which provides that an applicant must be given a reasonable notification time, of at least one day. With advocacy from Legal Centre attorneys, these individuals' interviews were postponed; however, applicants often do not know of their right to a reasonable notification time, and as a result are streamlined through the asylum procedure without time to access legal aid or adequately prepare for their interviews, which will likely have a negative impact on their asylum claim.
The EASO and the Regional Asylum offices in Lesvos are located inside Moria Camp. This is where individuals register their asylum claims and submit documentation to support their claims, yet the office remain inaccessible to asylum seekers – behind two barbed wire fences and heavily guarded by G4S.  Only if given an appointment by EASO, are individuals able to access the asylum office. This is a clear violation of asylum seekers right to access the asylum procedure and access to justice, and has required the advocacy of lawyers for even the simplest interventions. Our Legal Centre attorneys follow up on dozens of cases per week in both the Lesvos and Athens asylum offices: for example, in order to submit documentation supporting claims for family reunification under Dublin III Regulations, to give evidence of vulnerability, and to submit evidence to support individuals' asylum claims.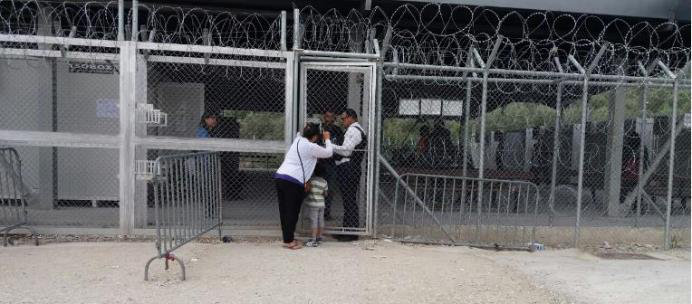 4. Increased use of Arbitrary Detention and Successful Legal Centre Advocacy
As the new Greek government aims to 'streamline' the asylum process by accelerating the removal of those not considered eligible for asylum, the use of detention will likely become increasingly arbitrary and prevalent as a method of restricting movement, frustrating asylum cases, and finally as a prerequisite to deportation.
In the last quarter, Legal Centre attorneys successfully filed objections to the detention of an individual detained as a 'public security' threat. The detention of individuals detained on the grounds of 'public security' often are detained either in violation of due process, or in violation of the principle of double jeopardy. The individual represented by Legal Centre had been ordered released from detention by the criminal tribunal, after being convicted of a non-violent, victimless crime, but was transferred from penal detention directly to detention in Moria Camp as an asylum seeker. These objections were filed on the defense of double jeopardy, and the individual was eventually released.
5. New Proposals and Reforms would Violate Right to Individualized Asylum Assessment and the Principle of Non-refoulement
The Greek government has announced a raft of new measures purportedly to try and reduce overcrowding and improve conditions inside Moria Camp. However, the proposed changes will likely only further restrict migrants rights as the government has changed the narrative: rather than fulfilling its duty to protect refugees, it now speaks of controlling illegal migration of economic migrants. The government has also announced it will accelerate deportations to Turkey, claiming it will return 10,000 people to Turkey by the end of 2020.
These measures are completely lacking in legal basis, as all asylum seekers must have their claims individually assessed, and the right to access justice.
Additionally, as we have consistently denounced, deportation to Turkey violates migrants' basic rights and often leads to deportation back to individuals' country of origin, in direct violation of the principle of non-refoulment, which guarantees that no one should be forcibly returned to a country where they would face torture, cruel, inhumane, or degrading treatment. Furthermore, as the Greek government announced it would increase deportations to Turkey under the EU-Turkey Deal, there has been an increase in deportation of Syrians from Turkey.
The idea that Turkey is a 'safe third country' confirms that – much like the 'safe zone' in Moria – the concept of a 'safe third country' has lost all meaning.
6. Racial Profiling by Local Police
The attack of the new right-wing government on refugee rights is continuing both on the Greek islands and the mainland.
In Lesvos, police harassment and racial profiling of migrants has increased, with the newly elected right-wing government legitimizing a rise in xenophobia, racism, and targeting by police. In an informal survey carried out with over 60 individuals who have come to the Legal Centre seeking advice, over 60% had been stopped by the police asking for documentation in the last month. Of those stopped by the police, approximately a third were apprehended and taken to the police station after being stopped, and later released.
One individual who was walking to his home, was apprehended, brought to the police station to check his papers, only to be later released. While walking home from the police station the same night, he was again stopped by the police and for the second time in one night, was taken to the police station to verify his documentation.
7. Police coercion of community leaders
We have continued to receive reports from community leaders that they are being brought into the police station and asked by officers both to suppress the right of individuals to protest, and to identify people inside Moria Camp that the authorities suspect of wrongdoing. This continued action by the police had been a response to the tragic fire inside the camp and the subsequent protests of residents.
We have previously documented the harassment of community leaders by the authorities in the following report and it seems that this is a recurring pattern which will only intensify as the conditions inside Moria worsen and tensions increase.
8.  Trials in Mytilini of migrants accused of occupying Sappho Square
On 10 October, one of Legal Centre Lesvos' coordinators appeared as a witness in the trial of several individuals who were charged with disobedience, resisting arrest, and illegal camping. They were charged related to a prolonged protest in the central square of Mytilene, in October and November of 2017. During the hearing, the dangerous conditions inside Moria were highlighted as a state of emergency that left the defendants with no other choice but to stay in the square. HIAS Greece, successfully represented several of the accused, and all but one of the defendants were acquitted despite the prosecutors' anti-migrant rhetoric.
9. Sustained Protests against Inhumane treatment of Migrants in Greece
Despite the continued violation of the rights of asylum seekers in Greece, there remains acts of solidarity and resistance both on the mainland and on the islands.
In the Exarchia district of Athens, demonstrations were held in solidarity with the squats after the widespread evictions of the migrants living there. More than 6,000 people reportedly marched in solidarity with the squats and against state repression. Some of the ex-residents who had been evicted from the building as well as residents from other squats that are still under threat all marched together.
The day after the fire inside Moria Camp, around 200 women living inside the camp protested peacefully against the conditions but were prevented from marching to Mytilini by the local police who blocked the road. Migrants have carried out daily protests outside Moria Camp since the date of the fire, and on each occasion the police prevented individuals from walking to Mytiline by physically blocking the road with police vans.
On 1 and 5 October, the solidarity and migrant communities came together to protest the deplorable conditions that led to the fire and demand the immediate closure of Moria camp.
On 12 October, approximately 30 Kurdish Syrians gathered in the centre of Mytilene to denounce Turkey's illegal invasion of Northern Syria, and ongoing offensive against the Kurdish people.