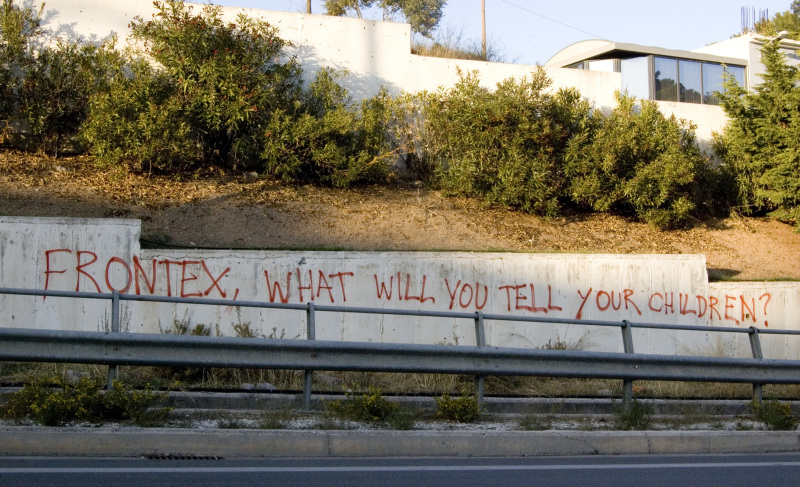 This morning, Legal Centre Lesvos and Front-Lex sent a formal request to suspend or terminate Frontex operations in the Aegean Sea to Fabrice Leggeri, the Executive Director of the European Border and Coast Guard Agency (Frontex), pursuant to Article 265 of the Treaty on the Functioning of the European Union.

The request is based on an accumulation of evidence showing Frontex and its Executive Director have failed to act, in infringement of European Treaties, in relation to fundamental rights and international protection obligations in the Aegean Sea region, including:

• Failure to decide against launching Frontex's Rapid Border Intervention Aegean in March 2020. Frontex decided to launch a "rapid border intervention" providing further material assistance to the existing Frontex operation in the Aegean sea region, in response to Greece's request on 1 March 2020. This Frontex activity was approved a day later, on 2 March, despite the fact that the Greek state had by that time already implemented a set of violent anti-migrant measures, including:
Unilateral suspension of the right to asylum in flagrant violation of EU asylum law and international law on 1st March;
Systematically pressing criminal charges against asylum seekers for unlawful entry in violation of Article 31 of the 1951 Refugee Convention;
Summarily and arbitrarily detaining migrants across the Aegean islands in ports, buses, ships, beaches, where they were denied access to asylum procedures, adequate shelter, sanitation facilities, and medical attention in violation of fundamental rights;
Increased violence at sea, with at least one instance in which the Greek authorities fired at a rubber dingy.
As such, it was clear there were "serious reasons at the beginning of the activity to suspend or terminate it because it could lead to violations of fundamental rights or international protection obligations of a serious nature", per Article 46 (5) of EU Regulation 2019/1896 on the European Border and Coast Guard Regulations.

• Failure to suspend or terminate ongoing Frontex operations in the Aegean (Joint Operation Poseidon) despite well-documented, systematic, collective expulsions. There is insurmountable evidence of Greek authorities systematically conducting collective expulsions, which from March 2020 until the present have been perpetrated pursuant to a consistent modus operandi. This practice has been repeatedly documented and denounced by numerous media outlets, migrant solidarity collectives and human rights organisations, including the Legal Centre Lesvos. As set out in our most recent report at section 3, the constituent elements of the operational pattern of pushbacks on the part of the Greek authorities in the Aegean violate numerous fundamental rights and international protection obligations, and amount to crimes against humanity. The involvement of Frontex vessels in persistent pushbacks in the Aegean sea has been documented by independent investigations. Pursuant to Article 46(4) of EU Regulation 2019/1896, Leggeri in his capacity as Executive Director of Frontex, after consultation with the Frontex Fundamental Rights Officer, is required to suspend or terminate the activity of Frontex in a context where violations of fundamental rights or international protection obligations related to the Frontex activities are of a serious nature and are likely to persist. 
• Failure to give a transparent, truthful and accurate account of the circumstances and number of pushback incidents recorded in the Aegean sea in which Frontex has been implicated, notably during hearings before the European Parliament.
• Ongoing and inherent failure of Frontex's internal reporting and monitoring mechanisms in relation to fundamental rights violations. The internal investigation launched following the Frontex extraordinary Management Board meeting on 10 November 2020 and the creation of a specific Working Group to review evidence of Frontex's involvement in fundamental rights violations, highlights the longstanding and ongoing deficiencies of the European agency. It demonstrates its inability to operate with transparency, efficient and effective reporting and monitoring mechanisms for fundamental rights violations. In addition to this internal investigation, there are two ongoing investigations into Frontex by the European Anti-Fraud Office (OLAF) and the European Ombudsman.
In light of the above failures and the evidence of its direct and indirect involvement in pushbacks, Frontex is complicit in documented state violence against migrants in the Aegean sea region in particular and in Greece more broadly.

As a European Agency systematically failing to act in accordance with European law, with its governing regulations and internal monitoring mechanisms, Frontex must immediately suspend or terminate its operations in the Aegean sea region.

These failures are inherent to the functioning of Frontex, its direction and management. Frontex operates with impunity in contexts of flagrant fundamental rights and international protection obligations violations, across Europe's borders. In the absence of independent and efficient transparency and accountability mechanisms, justice for survivors of collective expulsions in the Aegean must include defunding, demilitarising and dismantling Europe's violent Border and Coast Guard Agency.
*********************************************************
Hier, Legal Centre Lesbos et Front-Lex ont adressé une demande officielle de suspension ou de fin des opérations de Frontex en mer Égée à Fabrice Leggeri, le directeur exécutif de l'Agence européenne de garde-frontières et de garde-côtes (Frontex), conformément à l'article 265 du Traité sur le fonctionnement de l'Union européenne.

La demande est fondée sur une accumulation de preuves démontrant que Frontex et son directeur exécutif n'ont pas agi, en violation des traités européens, concernant les droits fondamentaux et les obligations de protection internationale dans la région de la mer Égée, et notamment:

• Le défaut de renoncer au lancement de l'intervention rapide aux frontières de Frontex dans la mer Égée en mars 2020. Frontex a décidé de lancer une « intervention rapide aux frontières » fournissant une assistance matérielle supplémentaire à l'opération Frontex déjà existante dans la région de la mer Égée, en réponse à la demande de la Grèce le 1er mars 2020. Cette activité de Frontex a été approuvée un jour plus tard, soit le 2 mars, malgré le fait que l'État grec mettait déjà en œuvre un ensemble de violentes mesures anti-migrants, comptant notamment:
La suspension unilatérale du droit de demander l'asile le 1er mars, en violation flagrante du droit d'asile de l'Union Européenne et du droit international;
L'initiation systématique de poursuites pénales à l'encontre de tout demandeur d'asile pour entrée illégale dans le pays en violation de l'article 31 de la Convention de 1951 relative au statut des réfugiés;
La détention sommaire et arbitraire de migrants sur les îles de la mer Égée, dans des ports, des bus, des bateaux, sur des plages, où ils se sont vu refuser l'accès aux procédures d'asile, à un abri convenable, à des installations sanitaires et à des soins médicaux en violation de tous droits fondamentaux;
L'augmentation de la violence à la frontière maritime, incluant au moins un cas dans lequel les autorités grecques ont tiré sur un canot pneumatique de migrants.
Ainsi, il était clair qu'il "exist[ait] déjà, dès le commencement de l'activité, des raisons sérieuses de la suspendre ou d'y mettre un terme parce que cette activité pourrait conduire à des violations graves des droits fondamentaux ou des obligations en matière de protection internationale", conformément à l'article 46 §5 du Règlement (UE) 2019/1896 relatif au corps européen de garde-frontières et de garde-côtes.

• Le défaut de suspendre ou mettre fin aux opérations de Frontex en cours dans la mer Égée ("opération Poséidon") malgré des expulsions collectives systématiques et bien documentées. Il existe des preuves indéniables que les autorités grecques ont systématiquement procédé à des expulsions collectives, qui, de mars 2020 à aujourd'hui, ont été perpétrées selon un mode opératoire cohérent. Cette pratique a été à plusieurs reprises documentée et dénoncée par de nombreux médias, collectifs en solidarité avec les migrants et organisations de défense des droits de l'Homme, y compris le Legal Centre Lesbos. Comme indiqué dans notre rapport le plus récent, les éléments constitutifs du mode opératoire des "pushbacks" par les autorités grecques dans la mer Égée constituent une violation de nombreux droits fondamentaux et obligations de protection internationale et constituent des crimes contre l'humanité. L'implication des navires de Frontex dans les "pushbacks" persistants en mer Égée a été documentée par des enquêtes indépendantes. En vertu de l'article 46 § 4 du Règlement de l'UE 2019/1896, Fabrice Leggeri, en sa qualité de directeur exécutif de Frontex est tenu, après consultation avec l'officier aux droits fondamentaux de Frontex, de suspendre ou de mettre fin à l'activité de Frontex dans un contexte où les violations des droits ou obligations de protection internationale liés aux activités de Frontex sont de nature sérieuse et susceptibles de perdurer.
• Le défaut de compte-rendu transparent, véridique et précis sur les circonstances et le nombre d'incidents de pushbacks enregistrés en mer Égée dans lesquels Frontex a été impliqué, notamment lors d'auditions devant le Parlement européen.
• Le défaut continu et intrinsèque de mécanismes internes de signalement et de contrôle de Frontex, propres à empêcher les violations des droits fondamentaux. L'enquête interne lancée à la suite de la réunion extraordinaire du conseil d'administration de Frontex le 10 novembre 2020, et la création d'un groupe de travail dédié à l'examen des preuves de l'implication de Frontex dans des violations des droits fondamentaux, met à nouveau en évidence les carences de longue date et persistantes de l'agence européenne. Cela démontre son incapacité à fonctionner avec des mécanismes de signalement et de contrôle transparents et efficaces des violations des droits fondamentaux. Outre cette enquête interne, Frontex fait l'objet de deux enquêtes en cours devant l'Office européen de lutte antifraude (OLAF) et le Médiateur européen.
Au regard des carences mentionnées ci-dessus et des preuves de son implication directe et indirecte dans les pushbacks, Frontex est complice des violences étatiques documentées contre les migrants dans la région de la mer Égée et plus largement en Grèce.

En tant qu'agence européenne agissant en violation systématique du droit européen, de ses propres règlements et de ses mécanismes de contrôle interne, Frontex doit immédiatement suspendre ou mettre fin à ses opérations dans la région de la mer Égée.

Ces défauts sont inhérents au fonctionnement de Frontex, à sa direction et à sa gestion. Frontex opère en toute impunité dans des contextes de violations flagrantes des droits fondamentaux et des obligations de protection internationale, à travers les frontières de l'Europe. En l'absence de mécanismes de responsabilité et de transparence indépendants et efficaces, la justice pour les survivants d'expulsions collectives dans la mer Égée doit inclure l'arrêt du financement, la démilitarisation et le démantèlement de la violente agence européenne de garde-frontières et de garde-côtes.