Guest post by Laily, who currently lives in Moria Camp and participates in of the PONTS PER LA PAU supported storytelling workshop, hosted in Legal Centre Lesvos since August 2019.
I try to wake up.
I sit up. I touch my cold feet. I do not find it difficult to put the blanket aside which after all has not warmed me up so much.
I put my blue sandals on my feet. I put the bag that I had prepared last night on my shoulders. For the last time I ask Dawod and Naser to wake up and not oversleep.
The day has begun.
The days of Moria begin early.
I remember the days back home. I had to wake up early to help my father.
The echo of my father's voice is in my ears.
Father…
I have reached the food queue. I enter the tent.
I did not manage to be in the first hundred.
I sit in the line and put the alarm bell half an hour earlier for tomorrow.
The food comes too late. I am half an hour behind schedule.
With a plastic bag containing two cakes and two bottles of water I walk quickly back to the container. Soniya has come 15 minutes earlier and she is standing there waiting for me.
I have to wait for the later bus 20 minutes. Meanwhile I buy a ticket. I learn from the Congolese woman how to say "How are you?".
Lucky are those who witness this scene. Only a few people waiting. No huge crowds storming the bus this time.
I board the bus.
Usually I walk 60 percent of the way to class with my brother Dawud and his friend Naser.
I am going to Nadia to say good-bye.
I got to know her not long ago. Yet seeing her makes me feel good.
A fragrant candle is my gift for her, the cheapest possible item I could find.
At Kara Tepe station, Zohra boards the bus.
At the last stop we get off the bus.
We talk about the class.
"How did the class go?" Zohra asks. I recollect the class. What a nice poem.
"One day, I will sing it with my own voice from the depth of my heart".
We are about to walk by a café. Zohra suggests buying a coffee.
O my God, I think, exactly what I need, to get rid of this headache. I agree right away.
I buy coffee and hot milk. Its fragrance takes me all the way back home.
I feel my mother standing beside me, insisting that I drink up my milk.
We stand opposite the building. I wake up from my day dream and see Nadia opening the door.
She is standing before us with her kind face, hugging each one of us.
In this place, the children of Adam need hugging more than ever.
The second floor. Nadia has put three plates of cake on the table.
After exchanging greetings, she starts brewing coffee. We are now four people sitting around the table.
It is such a nice atmosphere.
We are talking about the details of the program.
The program that we need to continue after Nadia's departure; "Storytelling with Nadia".
In the program the women are by themselves for an hour. They talk and listen to stories.
I know that I have to go to the bus station at eleven o'clock. Yara, the principle of the school where I work, will pick me up.
We talk for two hours. Time passes quickly. Nadia explains about the emails in detail.
Soniya wants me to sing before I leave.
I sing Wawa Laili for them.
It is the 16th of Bahman 96 [15th February 2018]. I sit at the office of Legal Centre. When they played Wawa Laili in the cafe everyone was congratulating me on my birthday.
Soniya prepares herself for singing and I pause to listen to her.
The beautiful voice of Soniya whirls in the room while I am receiving my gifts in the cafe.
We take a picture as a memory. I hug Nadia.
Something is blocking my throat. I can hardly breath. No tears in my eyes.
I say good bye. I do not return. I look at them.
I go downstairs. I close the door of the building. I inhale the awkward air outside.
I don't feel anything.
I go to the bus station. Manar, the Arabic speaking teacher, has arrived earlier than me. Both of us stand there waiting.
Yara comes with the car. There is not enough space. Now we are three people. We take a taxi to the school.
It is the first Sunday I attend the meeting of the teachers. For how long have I been so shy?
"Do you want to eat something?" asks Hadi. "No" I say.
We sit around at Perwane's class. "You do not seem well. Why?" asks Yara.
But I am well.
I have always been well.
She asks again.
"My friend is traveling to Spain" I say.
What the heck, I look sad.
O my God, this exactly what I needed.
Talking about Goodbye traditions in class.
We have made a big circle with the workers and the teachers of the school.
Yara is talking about the way people say goodbye in her country.
After her it is Ustad Hadi's turn, an Iranian teacher.
I am not here.
I have returned to the last day at home, the day of departure.
Other participants from Congo, Arabia and other places talk about their ways to say goodbye.
It is Didar's turn now, an Afghan teacher who came here from Kabul two years ago.
Ustad Didar shoots the last arrow.
He tells about how his mom was crying. He talks about how we cry a lot in the time of departure.
My tears start flowing down. I cannot control them anymore.
After Maya it is my turn.
"Our traditions are similar to those of Hadi and Didar" is the only thing I manage to utter. Then I stop.
I cannot talk about this.
I cover my face with my hands. I try to close the gate of our home's courtyard.
I sit in Nitzan's car. I am on the way to the camp. I cancel the alarm clock for tomorrow.
I know I won't be able to sleep tonight.
I will need to rest tomorrow morning.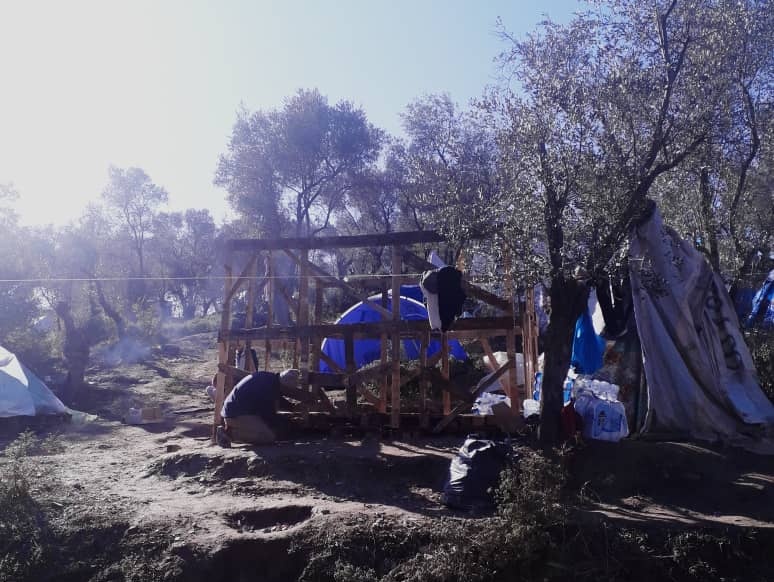 یک روز من
تلاش میکنم بیدار شوم،
وقتی مینشینم و به پاهای سردم دست میزنم میفهمم دل کندن از پتویی که آنقدر ها هم گرمت نمیکند خیلی هم سخت نیست.
دمپایی های آبی ام را میپوشم و کیفی که مثل همیشه شب آماده کرده ام را روی دوشم می اندازم و برای آخرین بار از داود و ناصر میخواهم خواب نمانند ،
روز آغاز شد
روزها در موریا خیلی زود آغاز میشوند .
خانه را بخاطر می آورم ، روزهایی که برای کمک به پدر همینقدر زود بیدار میشدم
صدای پدر در گوشم طنین می اندازد ،
پدر …
به صف غذا رسیده ام، وارد خیمه میشم،
باز هم برای اینکه عضو صد نفر اول باشم موفق نیستم
در لاین مینشینم و همان موقع هشدار صبح فردا را نیم ساعت زودتر تنظیم میکنم
ماشین دیر می آید، نیم ساعت از برنامه ام عقب هستم.
با پلاستیک حاوی دوعدد کیک و دو عدد آب معدنی سریع به سمت کانکس راه میوفتم، سونیا از زمان تعیین شده ۱۵ دقیقه زودتر آمده ومنتظرم ایستاده است.
سریع مسواکم را بر میدارم و به سمت شیر آب میروم،
ساعت ۸ و ۲۵ دقیقه به در خروجی موریا رسیده ایم، اتوبوس زودتر از معمول آمده
۲۰ دقیقه منتظر اوتوبوس بعدی مینشینیم و در این فاصله یک تیکت میخرم و از خانم اهل کنگو حالت چطوره را یاد میگیرم
باید خیلی خوش شانس باشی که این صحنه را ببینی ، تعداد نفرات کم است و امروز از دیدن صحنه ی هجوم بردن مردم به سمت اتوبوس خبری نیست.
سوار اتوبوس میشم،
هر روز با برادرم داود و دوستش ناصر ۶۰ درصد این مسیر را برای رسیدن به کلاس پیاده می آییم.
برای خداحافظی با نادیه میروم .
مدت طولانی نیست که با او آشنا شده ام اما دیدنش همیشه حس خوبی در دلم زنده میکند،
یک شمع عطراگین ارزان ترین هدیه ای بود که توانستم برایش تهیه کنم.
ایستگاه کاراتپه زهره سوار اتوبوسمان می شود،
در ایستگاه آخر پیاده می شویم
در مورد کلاس آواز حرف میزنیم،
زهره میپرسد کلاس چطور گذشت و من کلاس را بخاطر می آورم
چه شعر خوبی
((یک روز با صدای خودم و قلب خودم خواهم خواند))
همانطور که به یک کافه نزدیک میشویم زهره برای گرفتن قهوه سوال میپرسد
خدای من،چقدر احتیاج داشتم ،مطمعنم سر دردم را بهتر میکند
بلافاصله موافقت میکنم
قهوه و شیر داغ را میگیرم،بویش مرا به خانه میبرد،
حس میکنم مادر کنارم ایستاده و اصرار میکند شیرم را بخورم …
روبروی ساختمان ایستاده ایم وقتی به خودم می آیم نادیه در را گشوده است
با چهره ی مهربانش روبرویمان ایستاده و تک تکمان را به آغوش میکشد
اینجا آدم ها بیشتر از هر چیزی به یک آغوش مهربان نیازمندند
طبقه دوم، نادیه روی میز سه بشقاب کیک چیده است،
بعد از احوال پرسی قهوه جوش را روشن میکند و حالا ما چهار نفر دور میز نشسته ایم .
فضایی کاملا صمیمی ایجاد شده است
در مورد جزییات برنامه صحبت میکنیم
(( قصه با نادیه)) برنامه ای که بعد از رفتن نادیه، ما باید ادامه بدهیم .
آنجا خانمها یک ساعت برای خودشان هستند و حرف دلشان را میزنند و قصه میشنوند
میدانم که ساعت یازده باید به ایستگاه اتوبوس بروم ، یارا (مدیر مدرسه ای که در آن کار میکنم) دنبالم می آید
دو ساعت حرف میزنیم،زمان به سرعت میگذرد، نادیه در مورد ایمیل ها توضیحات کافی را میدهد،
سونیا میخواهد قبل از رفتن آواز بخوانم ،
خیلی اتفاقی آهنگ واوا لیلی را انتخاب میکنم
من در دفتر لگال سنتر نشسته ام اما تمام حواسم پرت ۱۴ بهمن ماه ۹۶ است، همان موقع که آهنگ واوا لیلی در کل کافه مها طنین انداخته بود و همه تولدم را تبریک میگفتند
سونیا برای خواندن آمده می شود و من برای شنیدن می ایستم
صدای زیبای سونیا در اتاق میپیچد اما من هنوز در کافه مها کادو هایم را تحویل میگیرم.
عکس یادگاری میگیریم، نادیه را به آغوش میکشم
چیزی راه گلویم را بند آورده است ،به سختی نفس میکشم اما هیچ قطره اشکی در چشمانم نیست .
خداحافظی میکنیم، بر نمیگردم نگاهشان کنم
از پله ها بیرون میروم ، وقتی در ساختمان را میبندم هوای بیرون را ناشیانه میبلعم.
هیچ حسی ندارم
به ایستگاه اتوبوس میروم، منار معلم عرب زبان زودتر از من آمده هر دو منتظر می ایستیم
ماشین یارا به اندازه کافی جا ندارد، حالا ما سه نفر هستیم و برای رفتن به مدرسه یک تاکسی میگیریم.
اولین شنبه ی است که به جلسه معلم ها آمده ام، من از کی تا حالا انقدر خجالتی شده ام ؟؟
هادی میپرسد چیزی میخورم و جواب رد میدهم.
در کلاس پروانه همه دور هم نشسته ایم، یارا میپرسد چرا خوب نیستم،
من اما خوبم
همیشه خوب بوده ام
دوباره میپرسد
میگویم دوستم به اسپانیا می رود،
اه پس من ناراحت به نظر می رسم !!
خدای من ،همین را کم داشتم
موضوع جلسه،آموختن خداحافظی به بچه ها است.
معلم ها و کارکنان مدرسه دایره بزرگی تشکیل داده ایم
یارا از مراسم خداحافظی کشور خودش میگوید
نفر بعدی استاد هادی است،معلم ایرانی
از آش پشت پا و کاسه ی آب پشت مسافر حرف میزند ،
من اینجا نیستم
من به روز آخری که خانه را ترک کردم برگشته ام ،
نفرات بعدی معلم های اهل کنگو، عربستان و… از رسوم خود حرف میزنند
حالا نوبت دیدار است، دیدار معلم افغانستانی که دو سال است از کابل به اینجا آمده
استاد دیدار تیر آخر را میزند
از گریه های مادرش میگوید و اضافه میکند که ما روز خداحافظی زیاد گریه میکنیم
با جملات دیدار اشک هایم ناشیانه جاری میشوند…
بعد از مایا نوبت من است
فقط کافی است بگویم رسوم ما مانند هادی و دیدار است اما متوقف میشوم
من نمیتوانم راجب این موضوع صحبت کنم
صورتم را با دست هایم میپوشانم و سعی میکنم در حیاط خانه را ببندم…
برای رفتن به کمپ داخل ماشین نیتزان نشسته ام و بلافاصله هشدار صبح فردا را کنسل میکنم .
میدانم که امشب خوابم نمیبرد .
من صبح فردا احتیاج به استراحت دارم…