Arbitrary Detention Sparks Protests in Moria and Mytilene
Lack of free legal representation on appeal violates refugees' right to due process
Concerns about rise in hate crimes and discrimination in Mytilene
LCL developments: LCL welcomes new Greek lawyer to team
---
1. ARBITRARY DETENTION SPARKS PROTESTS IN MORIA AND MYTILENE
The Greek government continues to indiscriminately detain all asylum seekers after their cases have been rejected on appeal. As denounced by the Legal Centre Lesvos, this practice is in violation of Greek, EU and international law. Applicants for international protection can only be lawfully detained as a measure of last resort under the specific circumstances set out in Article 46 of Greek Law 4375, which must be individually assessed in every case. In the past week, the practice of administrative detention in Lesvos has led to two separate protests.
Today, 13 July 2017, several detained asylum seekers, and the brother of one of those detained, enter the 16th and 15th day of their hunger strike demanding the release of everyone incarcerated in Moria Camp. Arash Hampay, the brother of one of the asylum seekers on hunger strike in prison, is a human rights activist from Iran. He joined the hunger strike in Mytilene's public square a day after his imprisoned brother, and reports regularly on the situation of refugees in Lesvos and failure of the Greek State and UNHCR to protect those seeking refuge in Europe.
Among the practices denounced by Arash Hampay is the new practice of limiting refugee detainees' access to their phones to one hour per day, and restricting access to medical care. These practices put the hunger strikers´ lives in danger and violate their right to protest. During the past two weeks of their hunger strike, the detained hunger strikers have not been visited by authorities to discuss their demands. The Mytilene police have approached Arash Hampay only to threaten him with arrest and insult him. On Saturday 8 July 2017 approximately 50 refugees marched from Moria Refugee Camp to Mytilene in solidarity with the hunger strikers, and in protest of the detention of asylum seekers. The march ended with a rally in Sappho square, the site of Arash Hampay's hunger strike, where he made a speech denouncing the inhumane practices of the Greek and EU authorities which was translated into four different languages for the crowd that had gathered.
On 10 July 2017, a protest erupted in Moria Refugee Camp, the main refugee camp in Lesvos, where more than 3,000 refugees live in overcrowded, inhumane conditions for prolonged periods of time. The demonstration was a response to the rejection of asylum claims and systematic detention of asylum seekers in Lesvos. The police in Moria responded by attacking the crowd with tear gas. There were no serious injuries, but the containers of several NGOs caught fire and were destroyed; including the container of EuroRelief, the religious organization responsible under UN auspices for providing basic services in the Camp. Several refugees have denounced EuroRelief for collusion with the police, discrimination against and failure to protect LGBTQ+ refugees, and for prosthelatysing vulnerable inhabitants of Moria Camp. Fire trucks and fire fighters entered Moria Refugee Camp to combat the fire only after the fire had died down.
2. LACK OF FREE LEGAL REPRESENTATION ON APPEAL
Greek Law provides that "in procedures before the Appeals Authority, applicants shall be provided with free legal assistance." Greek Law 4375, Article 44; which transposes Articles 19-23 of the EU Procedures Directive, which requires the same. As of the the last week of June 2017, however, the Greek NGO, Metadrasi, that had been providing this mandatory free legal assistance on appeal has stopped accepting new cases. Metadrasi's contract to provide legal assistance on appeal ended at the end of June 2017, and no other legal aid provider has been contracted to fill the gap left by the departure of Metadrasi. As a result, all those whose applications for international protection have been rejected in the past two weeks are being told by Greek authorities and UNHCR that there is no lawyer available to assist with their appeal.
Under accelerated border procedures in place in Lesvos, appeals are usually examined only 10 days after an initial rejection. This leaves asylum seekers with little time to secure effective legal aid even when a free lawyer is provided, as required by Greek law. This problem has been aggravated over the past few weeks with asylum seekers unable to secure any legal assistance before their appeals are examined. This process violates asylum seekers' right to due process, and could lead to the rejection and deportation of asylum seekers who will face persecution in their home countries or Turkey: in violation of the principle of non-refoulement and the non-derogable provisions of Article 3 of the European Convention on Human Rights, which prohibits torture and inhuman or degrading treatment.
3. CONCERNS ABOUT RISE IN HATE CRIMES AND DISCRIMINATION
In the past week, the Legal Centre has been informed of at least three attacks by Greek nationals and the Greek police against refugees. The Legal Centre helped one refugee file a complaint with the police department after he was beaten by three Greek individuals who stopped him on the street and insulted him for being an "African bastard." Another individual from Iran was also beaten by three Greek individuals. When he began to defend himself, the police arrived and arrested the Iranian refugee but not the Greek individuals. The Iranian national was taken to the Mytilene police station where he was beaten by the police, and charged with having assaulted the Greek nationals. In the past few weeks we have also been informed of an increase in discrimination against refugees by both Greek civilians and police officers, particularly racism against black individuals. In one reported incident, employees of Tsamakia beach, the main beach in Mytilene, refused entry to a group of black refugees, who were preparing to pay. The individuals were given no explanation for the refused entry, and believe the refusal was racially motivated. It should go without saying that discrimination based on race or national origin violates basic rights guaranteed by Greek, EU and international law.
                                                                                                                   Tsamakia beach, Lesvos
4. LCL WELCOMES NEW GREEK LAWYER TO THE TEAM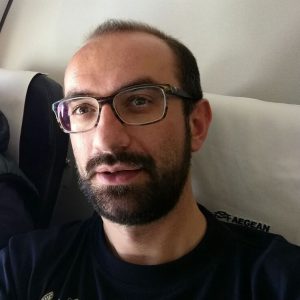 The Legal Centre is happy to welcome Greek lawyer Stefanos Mitropanos to our team. He joins the Legal Centre after several years working as an attorney in Athens and Thessaloniki, defending the rights of refugees and criminal defendants in Greek courts and in the European Court of Human Rights.