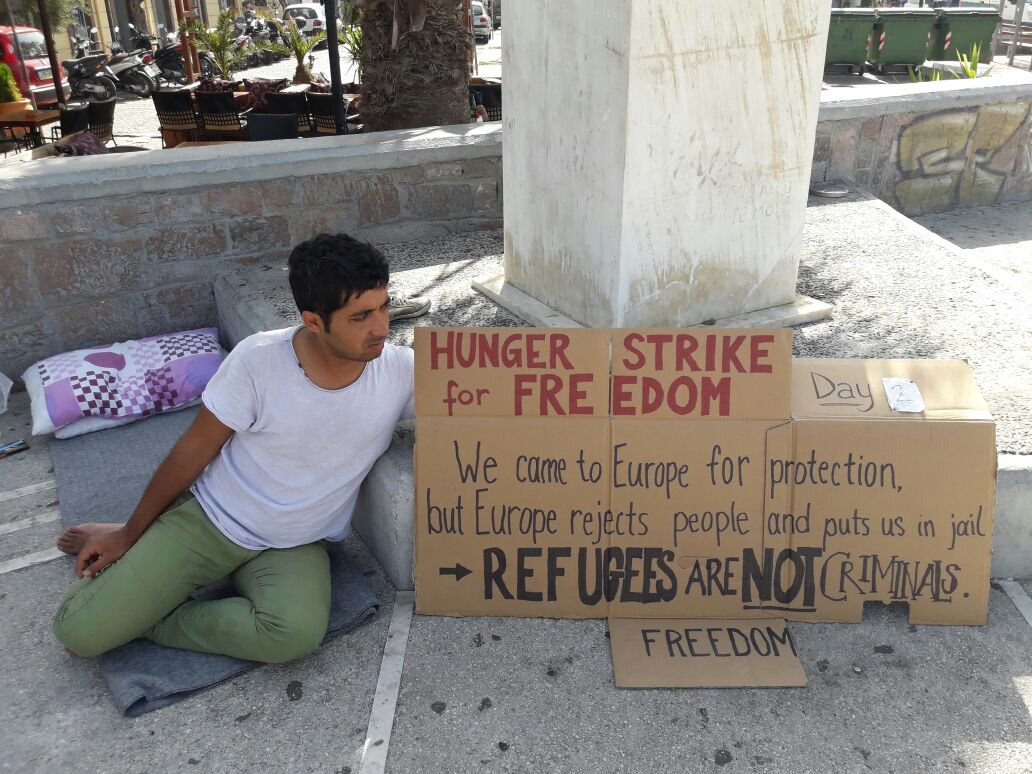 The Legal Centre Lesvos condemns the unlawful practice of indiscriminately detaining people who are in the process of applying for international protection. The Greek Asylum Service is currently automatically detaining applicants whose initial appeals have been rejected, and arbitrarily detaining people of certain nationalities for the entire duration of their applications.
International law forbids discrimination on the basis of nationality, and prohibits arbitrary arrest and detention. It also provides that detainees have the right to meaningfully challenge any deprivation of their liberty. All these rights are being systematically violated in Lesvos. Indiscriminate administrative detention also violates the procedural requirements of EU and Greek law, which explicitly prohibit holding people in detention for the sole reason that they have applied for international protection. Detention is only exceptionally permitted for limited time periods as a measure of last resort, under the specific circumstances set out in Article 46 of Greek Law 4375, which must be individually assessed in every case.
On Wednesday, 28 June 2017, four individuals imprisoned in Moria started a hunger strike protesting their arbitrary imprisonment, and demanding freedom for all those detained on the island. Arash Hampay, whose brother is one of those on hunger strike in Moria, has joined their hunger strike from Sappho Square on 29 June 2017, and shared the following statement:
"I call for the immediate release from detention of my brother, and the three others who are on hunger strike inside the prison in Moria. We demand the Greek Asylum Service and the United Nations hear our voices, which have fallen on deaf ears for too long.
How dare you speak in the beautiful slogans of human rights? How dare you talk about humanity and law and democracy? How dare you condemn human rights abuses in other countries when you are committing human rights abuses here, yourselves?
We came to Europe for protection. We came because we were hurt, because we were tortured, because our lives were in danger. But instead of showing us mercy, you are treating us like criminals. Barbed wire and prison cells are not the right place for refugees.
From the day we fled the hell we were enduring in our home countries and became refugees in pretentious Europe, we have suffered the worst kinds of psychological torture. We have been humiliated and beaten by the police. We have been denied the right to work and if we do work, we are exploited. We have had our human dignity stripped from us. In the winter in Moria people have died from cold and hunger at night, freezing in thin tents for months on end. We saw our families dying beside us and you did nothing.
The imprisonment of my brother Amir Hampay is a violation of his basic human rights. He has been in prison for 2 months. For what crime? On what legal or ethical basis can you justify arresting and detaining us in this way?
My brother Amir and I are from Iran. Bahroz Aresh and Kozhen Hussain are from Iraq. Tariq Ibrahim is from Syria. They are all on hunger strike from yesterday, and today the 28 June 2017 I have joined them. We will remain on hunger strike until you meet our demand.
Our demand is simple. It is a demand for basic human dignity. We demand you release all the refugees in prison in Lesvos who have not been accused or convicted of any crime. We demand Europe stop keeping refugees in detention."
The detainees on hunger strike in Moria camp, Lesvos, have not been accused or convicted of any crime. They have done nothing more than apply for asylum. Arbitrarily depriving applicants for international protection of their liberty is a systematic violation of fundamental human rights.
The Legal Centre Lesvos is concerned about the physical and mental health of the hunger strikers, especially given extreme summer heat. We stand in solidarity with them in their call for an end to the unlawful and inhumane practice of arbitrary detention.