The Legal Centre Lesvos AMKE is a civil non-profit organisation registered in Greece and previously operative as a restricted fund under the auspices of Prism the Gift Fund (UK).
Since August 2016, we provide free and individual legal information, assistance and representation to migrants who arrived by sea to Lesvos, where our office is based. Besides this continuous and direct support, the Legal Centre also works towards collective justice and structural change as part of local and international movements, including through advocacy and strategic litigation: documenting violations of migrants' rights and engaging in advocacy and strategic litigation to hold the Greek government, Member States of the European Union, and European institutions to account. In addition, we advocate for equal access to safe and legal routes of migration in Greece, Europe and globally.
Our work
Free Legal Aid
We provide free legal aid to assist people in the asylum procedure, people who have faced human rights violations, as well as people facing criminal charges. To schedule a legal consultation, you can contact us or visit our office in Mytilene. Our office has an open door policy and anyone can visit us from Monday to Thursday between 10am to 2pm.
Advocacy & Reporting
We document and regularly report about the situation for migrants in Lesvos and Greece, as well as advocate against systemic human rights violations and abuses people on the move face as a result of racist, discriminatory migration policies implemented in Greece and the European Union. To stay informed about the latest developments, subscribe to our newsletter and follow us on social media:
Litigation
In order to fight against Greek and EU policies that lead to violations of human rights, border violence, criminalization of migration and solidarity, and to defend the fundamental rights of migrants trapped in 'hotspot' camps, the Legal Centre Lesvos engages in strategic litigation before both Greek and international fora. Find out more about ongoing cases represented by LCL in our Advocacy and Litigation page.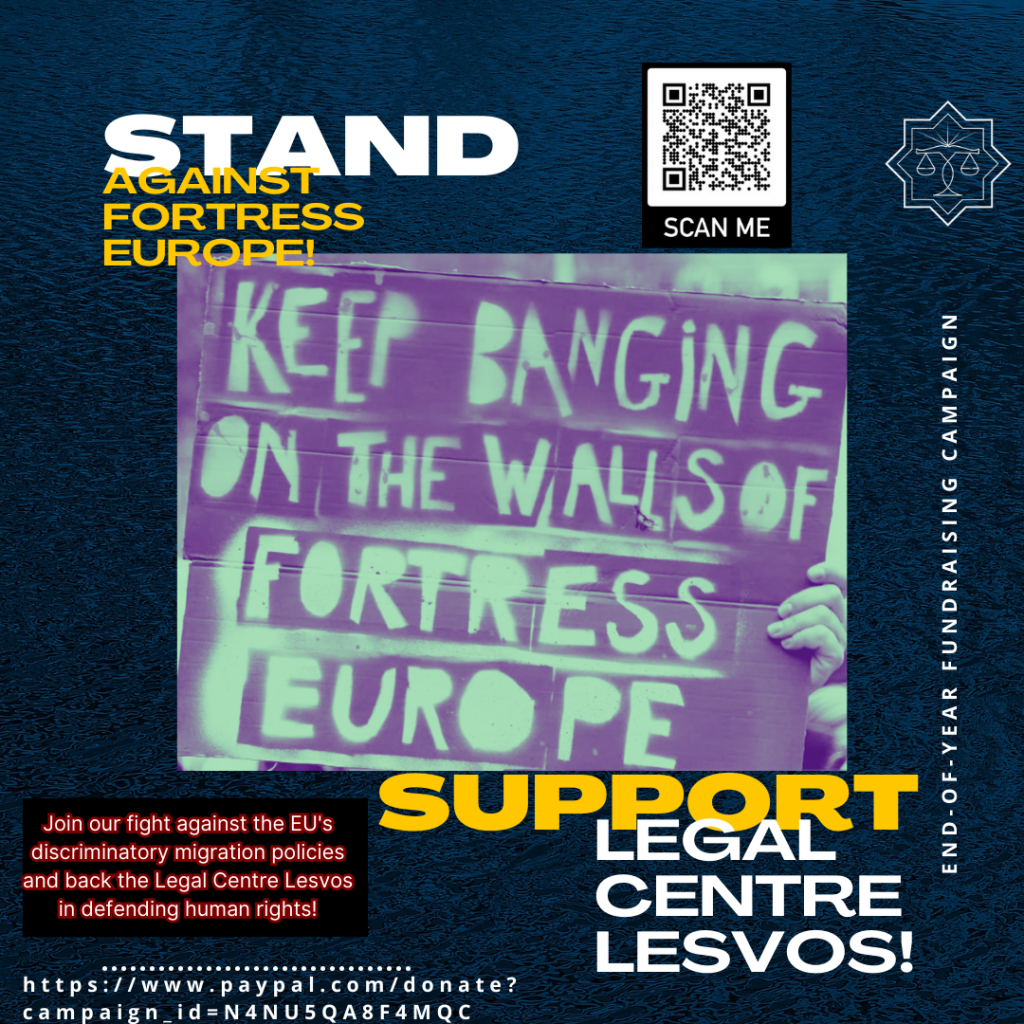 Check out our campaign, get involved, spread the word! We value our independence, and can only continue our work with your support. Give us a hand, keep our work people-powered, consider donating here!
Brick by brick, wall by wall: Make the Fortress Europe fall!
Latest News