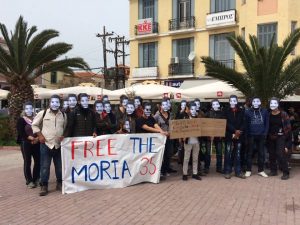 Ahead of the 20 April 2018 trial of the Moria 35, we premiered the documentary Moria 35, at Refugees Accommodation and Solidarity Space City Plaza in Athens this Saturday 14 April.
The film chronicles the months of organized resistence by migrants in Moria Detention Centre prior to the 18 July 2017 violent police crack-down and arrest of the 35 now facing trial. On trial this week are not only the unjust arrest and prosecution of the 35, but also the State policies of violence and the marginalization of migrants in hotspots like Moria at Europe's borders.
In City Plaza on Saturday the screening of Moria 35 was part of an open discussion about persecuted and imprisoned migrants of the Moria 35, and Petrou Ralli 8.  Joining the discussion were filmmaker Fridoon Joinda, as well as Nasim Lomani from City Plaza, Lorraine Leete from the Legal Centre, and Moria 35 defence attorney Giorgia Palaiologou.