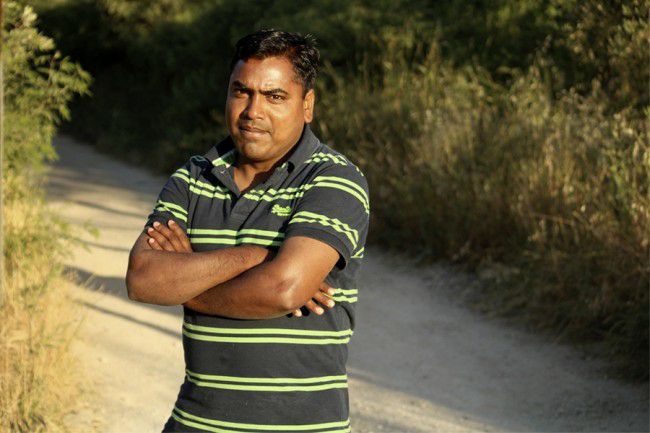 Scroll down for Greek text

On Thursday 24 January 2019, Sohel M. will appear for preliminary hearings after being indicted on felony charges relating to a fire in Moria Detention Centre in October 2016.
At this hearing the judge will decide what criminal charges to prosecute against Sohel, and whether he will be freed from detention awaiting trial – which could be several months from now.
Sohel has been a politically active and public figure in Lesvos for the last two years. It defies logic why more than two years after this specific fire in Moria – in which no one was injured – the Greek state has decided to invest resources to prosecute a case that has no basis.
While the hearing will be private, please join us in a show of solidarity Thursday 24 January 2019, 12pm at Mytilene Courthouse
To anyone who knows Sohel in Greece it comes as no surprise that he was politically active in his home country of Bangladesh. Since his arrival in Lesvos, Sohel has publicly spoken out and organized for the rights of migrants. In an environment in which discriminatory practices breed tensions between different nationalities in Moria Camp, Sohel has always worked to bring communities together. Over the past two years, he has presented letters to European politicians, spoken to international press, met with parliament members, and participated in peaceful demonstrations. He has consistently worked together both with migrant and Greek communities to defend the rights of migrants.
Organizing is not a crime, and demonstrating against inhumane conditions and unjust asylum procedures are not crimes – and these are the only activities Sohel has been involved in on Lesvos. Sohel has been living in Greece since July of 2016. Arriving just a few months after the EU-Turkey deal was implemented, he has been restricted for this entire time to the island of Lesvos, living most of this time in the notorious Moria Camp. While Sohel had personally faced persecution for his political activities in his home country (and fatal political infighting is common in Bangladesh), his asylum claim, like those of most Bengali nationals, was rejected. He now faces baseless criminal charges. The injustice Sohel has faced since he arrived in Europe is the only crime in this case.
We stand with Sohel, to demand his freedom from criminal prosecution, freedom from detention, freedom from deportation, and freedom from the prison island of Lesvos. #FreedomForSohel
****
Την Πέμπτη 24 Ιανουαρίου 2018, ο Σοχέλ M. θα εμφανιστεί σε προκαταρκτική ακρόαση αφού αντιμετωπίζει κατηγορίες κακουργηματικού χαρακτήρα σχετικά με πυρκαγιά στο Κέντρο κράτησης της Μόριας τον Οκτώβριο του 2016.
Σε αυτή την ακρόαση ο δικαστής θα αποφασίσει ποια ποινική δίωξη θα ασκήσει εναντίον του Σοχέλ και εάν αφεθεί ελεύθερος εν αναμονή της δίκης, η οποία θα γίνει σε αρκετούς μήνες από σήμερα.
O Σοχέλ τα τελευταία δύο χρόνια υπήρξε πολιτικά ενεργός και δημόσιο πρόσωπο στη Λέσβο . Αμφισβητεί τη λογική γιατί για περισσότερο από δύο χρόνια μετά από αυτή τη συγκεκριμένη πυρκαγιά στη Μοριά – στην οποία κανείς δεν τραυματίστηκε – το ελληνικό κράτος αποφάσισε να επενδύσει πολιτικά σε μια υπόθεση που δεν έχει καμία βάση.
Ενώ η ακρόαση θα είναι ιδιωτική, καλούμε για αλληλεγγύη στον Σοχέλ την Πέμπτη 24/01/19 και ώρα 12:00 στο Δικαστικό Μέγαρο Μυτιλήνης.
Για όποιον γνωρίζει το Σοχέλ στην Ελλάδα, δεν αποτελεί έκπληξη το ότι ήταν πολιτικά ενεργός στην πατρίδα του στο Μπαγκλαντές. Από την άφιξή του στη Λέσβο, ο Σοχέλ μίλησε δημοσίως για τα δικαιώματα των μεταναστών. Σε ένα περιβάλλον στο οποίο οι πρακτικές που εισάγουν διακρίσεις δημιουργούν εντάσεις μεταξύ διαφορετικών εθνικοτήτων στο καμπ της Μόριας, ο Σοχέλ εργάστηκε για να φέρει μαζί τις κοινότητες. Κατά τα τελευταία δύο χρόνια, παρουσίασε επιστολές σε ευρωπαίους πολιτικούς, μίλησε στο διεθνή Τύπο, μέλη του Ευρωπαϊκού Κοινοβουλίου και συμμετείχε σε ειρηνικές διαδηλώσεις. Έχει εργαστεί ενεργά με μεταναστευτικές και ελληνικές κοινότητες για την υπεράσπιση των δικαιωμάτων των μεταναστών.
Η αυτοοργάνωση δεν είναι έγκλημα και η κατάδειξη των απάνθρωπων συνθηκών και των άδικων διαδικασιών ασύλου δεν αποτελούν εγκλήματα, αυτές είναι οι μόνες δραστηριότητες που ανέλαβε ο Σοχέλ στη Λέσβο.
Ο Σοχέλ ζει στην Ελλάδα από τον Ιούλιο του 2016. Έφτασε μόλις λίγους μήνες μετά την υλοποίηση της συμφωνίας ΕΕ-Τουρκίας και έχει περιοριστεί όλο αυτό το διάστημα στο νησί της Λέσβου, που ζει το μεγαλύτερο μέρος αυτής της περιόδου στο περιβόητο καμπ της Μόριας . Ενώ ο Σοχελ αντιμετώπισε προσωπικά διωγμούς για τις πολιτικές του δραστηριότητες στην πατρίδα του (οι θανατηφόροι πολιτικοί αγώνες είναι συνηθισμένη υπόθεση στο Μπαγκλαντές), το αίτημα ασύλου του, όπως και εκείνων των περισσότερων Μπενγκάλι, απορρίφθηκε. Τώρα αντιμετωπίζει αβάσιμες κακουργηματικές κατηγορίες. Η αδικία που αντιμετώπισε ο Σοχέλ από τότε που έφτασε στην Ευρώπη είναι το μόνο έγκλημα σε αυτή την περίπτωση.
Συμπαραστεκόμαστε στο Σοχέλ, ζητώντας την ελευθερία του από την ποινική δίωξη, την απαλλαγή από την κράτηση, την ελευθερία από την απέλαση και την απελευθέρωση από τη φυλακή της Λέσβου. #FreedomForSohel