The Legal Centre Lesvos was founded following the 18 March 2016 EU-Turkey statement – otherwise known as the EU-Turkey 'deal'. Through this agreement of questionable legality, the European Union turned people seeking freedom, safety and dignity into commodities and bargaining chips: agreeing to pay billions of euros to Erdogan's authoritarian regime in exchange for Turkey acting as a border guard to fortress Europe. This week marks five years since the EU-Turkey deal turned the island of Lesvos, and other Aegean 'hotspot' islands, into open-air prisons for migrants. Each day this week, Legal Centre Lesvos will publish a statement on one aspect of the legal consequences of the EU-Turkey Deal.
1. Turkey is not a 'Safe Third Country'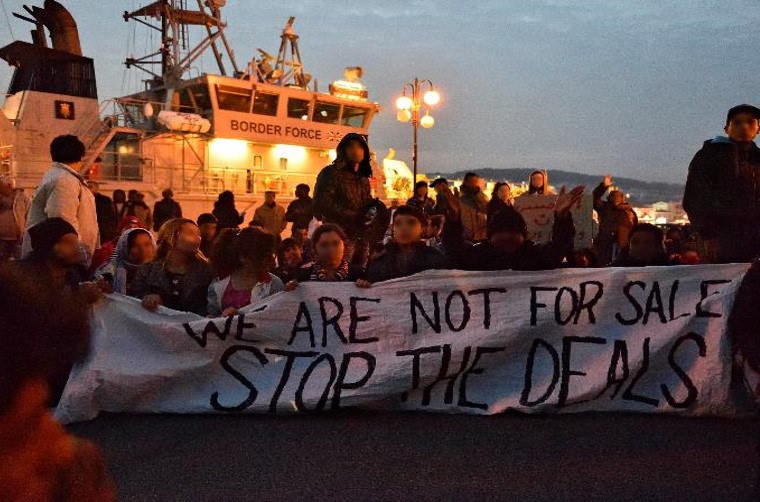 The EU-Turkey 'Deal' is based on a statement of cooperation providing for the return of all 'irregular' migrants arriving on the Greek islands back to Turkey. In its fifth year, although the Turkish border has been officially closed due to Covid-19, the Deal's underlying objectives continue to be implemented through systematic pushbacks to Turkey perpetrated by Greek authorities with the complicity of EU agencies, and through Turkey's violent fortification of its borders with Iran, Syria and – thanks to additional European Commission funding – Greece. We will write more on these aspects over the next few days, but today we want to highlight the root of the deal: the designation of Turkey as a 'safe third country'.

The safe third country concept, defined in Article 38 of the Asylum Procedures Directive, allows EU Member States to return applicants for asylum or subsidiary protection to a country other than their country of origin if they passed through it on their journey to the Member State and have a connection to that country. They can only do so if that country can be considered 'safe', meaning that ALL of the following must be met: (1) it is possible to request refugee status and if eligible to receive protection in accordance with the 1951 Geneva Convention relating to the status of Refugees; (2) there is no risk of return to an unsafe country of origin; (3) there is no risk of serious harm, and (4) there is no threat to life or liberty on account of race, religion, nationality, membership of a particular social group, or political opinion. Turkey is not safe, on any of these levels:
(1) International protection in Turkey is only technically available to persons fleeing events occurring before 1 January 1951 and from European countries only, as Turkey is not a signatory to the 1968 protocol to the Geneva Convention, which expanded its protection both temporally and geographically. The 2013 Turkish Law on Foreigners and International Protection (LFIP) provides only for a conditional refugee status which affords a lesser set of rights than international protection guaranteed in the Geneva Convention. Meanwhile, only Syrians are eligible for the temporary protection regime provided for in Turkish national law: even this inadequate provision is not available to migrants of all other nationalities.
(2) As for risk of return to an unsafe country, deportations of asylum seekers from Turkey are routine. The deportation of people whose asylum claims are still pending is enabled by loopholes to the principle of non-refoulement set out in Article 54 LFIP, amended by Presidential Decree No. 676 following the failed 2016 coup attempt and by Law 7070. Derogation from the principle of non-refoulement is permitted for individuals: posing a public order threat (applied to anyone with a criminal charge, not even a conviction); having a 'relation' to or being 'associated with' a terrorist organisation (completely undefined); and breaching the terms for legal entry into Turkey (in practice, all migrants) or attempting to illegally exit from Turkey (such as migrants travelling irregularly to Greece). Appeal against a removal decision is possible within seven days, but legal aid is so scant that most people are unable to access representation in order to submit an appeal. One family of four with two minor children known to LCL was detained in Turkey for nine months following an illegal collective expulsion from Greece, and then deported from Turkey to Afghanistan. The family has now returned to Greece and has received international protection. Another survivor of a collective expulsion from Greece to Turkey documented by LCL was deported from jail in Turkey to Syria. This individual was travelling as an unaccompanied minor and was only fifteen years old. He now lives in a camp for internally displaced people in Idlib, Syria.
(3) Arbitrary, lengthy detention in inhuman and degrading conditions is one example of the serious harm migrants are at risk of in Turkey. Migrants can be detained in Turkey for up to a year with no need for a reason to be given and no judicial oversight. Detention centres are overcrowded and unhygienic and many instances of violence and torture by staff against detainees have been reported. Non-Syrian nationals deported from Greece to Turkey are routinely detained upon arrival where they are held in "removal centres." In these removal centres they are regularly denied access to asylum procedures and face deportation to their countries of origin.
(4) It is a well documented fact that even for Turkish citizens – let alone for migrants without status – the Turkish state poses a threat to life and liberty on account of race, religion, nationality, membership of a particular social group and political opinion. The EU-Turkey Deal has long provided cover for the Turkish regime's crackdown on perceived dissent; for its systematic persecution of Kurds, other ethnic and religious minorities, and LGBTQI+ people; its arbitrary arrest and imprisonment of political opponents, journalists, leftists, students and academics, trade unionists, human rights defenders, lawyers; its excessive use of force to crush organised resistance and protests; its use of torture and enforced disappearances; its alignment with fascist militias and imperialist military expansionism involving invasions, occupations and the commission of war crimes and atrocities.
In 2017, following challenges to the legality of the EU-Turkey 'Deal', the Supreme Administrative Court of Greece decided (ΣτΕ 2348/2017) that Turkey was a safe third country for the two Syrians whose cases were appealed. This fiction continues to be upheld for the vast majority of Syrian nationals, even though it is clear that the Deal's supporters in government do not believe it themselves. According to the Minister of Foreign Affairs, from the ruling New Democracy party, in a speech made on 5 December 2020: "Turkey conducts military operations in foreign territories, occupies parts of neighboring countries, threatens war, challenges the sovereignty and sovereign rights of European countries, transports jihadists, interferes in the internal affairs of other countries, supports extremist movements, is using immigration as a tool, offends against human rights in the interior of the country. It is trying to develop a sphere of influence in the wider region – to create a new Turkish Yalta."

Turkey is not a 'safe third country'. Its insistent designation as such by European authorities directly results in the inhuman and degrading treatment, refoulement and death of migrants, while funding and empowering an authoritarian regime itself responsible for many of the forms of violence people flee.

5 YEARS ON ENOUGH IS ENOUGH: END THE EU-TURKEY DEAL!

---
2. 'Admissibility'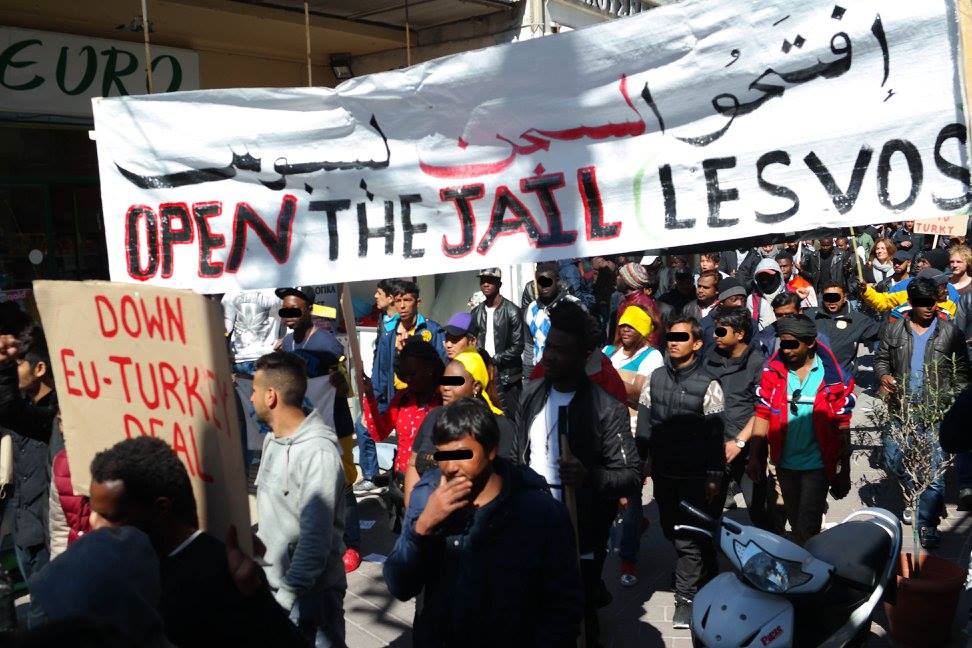 What does the EU-Turkey Deal and the notion of Turkey as a 'safe third country', described in yesterday's LCL statement, mean in practice for people arriving in Lesvos?

Most people who arrive here and claim asylum will have an asylum interview in which they will be asked why they left their country of origin [not necessarily the country they last lived in or even were born in, but the country from which they hold citizenship] and why they can't go back. Based on this, the Greek and European asylum services will assess whether they qualify for refugee status or subsidiary protection, or whether (ultimately) to deport them.

Most people, that is, except Syrians. For Syrians, the only question of importance is did you arrive in Greece from Turkey via the northern land border or via the Aegean sea to one of the 'hotspot' islands? All applicants for international protection arriving to one of the 'hotspot' islands are subject to the border procedures implemented following the EU-Turkey Deal. Under these procedures, and particularly since changes to Greek asylum law in 2019, usually no examination is made of why the person seeking asylum left Syria. Their claim is rejected on 'admissibility', meaning the application for asylum is deemed inadmissible and no examination is made of their eligibility for asylum at all, on the basis that they passed through Turkey – a supposedly 'safe third country' for Syrians. Over the course of the past year, the LCL has seen very few Syrians pass this admissibility stage. Only in very specific and rare circumstances, certain individuals are deemed not safe in Turkey. For instance, in one case, although he was initially rejected on admissibility by the Regional Asylum Office of Lesvos, a Kurdish individual who had fled Afrin at the very time Turkey invaded North East Syria (Rojava) and was conducting a military offensive in Afrin, was found 'admissible' on appeal, and was granted asylum.

The assessment of whether Turkey is a 'safe third country' as part of the admissibility procedure was previously applicable to all applicants for international protection from countries of origin with asylum recognition rates of over 25% arriving from Turkey to Greece via the 'hotspot' islands, as part of border procedures. In the first years after the EU-Turkey Deal, European Asylum Support Office (EASO) 'experts' were charged with carrying out interviews of asylum seekers and assessing their 'admissibility' for substantive asylum procedures in Greece. Across the board, EASO found that Turkey was a 'safe third country' and that all asylum seekers subject to the admissibility procedure should be returned to Turkey, without assessing their substantive claim for asylum. Such uniform, unfounded findings by a European agency only reveals the close relationship between the introduction of the admissibility procedure on the 'hotspot' Greek islands and fortress Europe's border externalisation drive. The Greek Asylum Service, however, recognised the limitations of protections available in Turkey, and – for non-Syrians – would overturn the EASO opinion and declare applications admissible without exception. This is not to say that the Greek authorities were without blame: Syrians who were not exempt from border procedures were almost universally found inadmissible, even under the previous Syriza administration. Moreover, it was the Syriza government who first implemented the model of border externalisation and containment on the Greek 'hotspot' islands following the EU-Turkey Deal, which – as will be discussed in posts in the coming days – is now being used as the model for legislative proposals contained within the 'new' EU Migration and Asylum Pact.

The admissibility procedure results in contradictory situations in which individuals can pass admissibility in recognition that Turkey is not a safe third country for them, but then be rejected on 'eligibility' (their substantive asylum claim) – meaning they would still then face deportation to Turkey under the EU-Turkey Deal, despite it already having been deemed unsafe for them by authorities. Over roughly the past year, the 'admissibility' procedure has only been applied to Syrians, since Turkey has universally been found to be unsafe for all non-Syrians. With the Turkish border closed due to Covid-19 and practically all Syrian claims rejected on admissibility, this leaves Syrians in Lesvos, and people of other nationalities whose asylum claims have been rejected on eligibility, in a torturous limbo: unable to move forwards or backwards, and under the constant threat of deportation to Turkey. For Syrians, the admissibility procedure increasingly functions to prevent their substantive asylum claims from being examined anywhere at all, in violation of international refugee law.

Again: Turkey is not safe for Syrians. Illegal deportations from Turkey to Syria are widely reported: these occur through the practice of excluding Syrians from protection against deportation by preventing them registering for international protection; through forcing, often with the use of violence, Syrians to sign 'voluntary deportation papers'; or through the numerous loopholes to the principle of non-refoulement in Turkish Law, detailed in yesterday's statement on why Turkey is not a 'safe third country'. Even for Syrians who do manage to stay in Turkey, Turkey cannot be considered 'safe'. Turkey's temporary protective status available to Syrians in lieu of asylum offers no chance of eventual citizenship and stability. For the large number unable to register for the temporary protective status, and for all non-Syrian migrants precluded from it, no government support is available. This, combined with the prohibitive requirements which employers must satisfy in order to gain work permits for foreigners, forces many Syrians into destitution in Turkey.

The unjust, arbitrary, upshot of all of this for Syrians is that if you reach the Greek mainland and claim asylum there, you are highly likely to get asylum or subsidiary protection given the ongoing conflict in Syria. According to European Asylum Support Office data, the EU recognition rate for Syrians in January 2021 was 90%, meaning that 9 out of 10 Syrian applications in the EU received a positive decision: slightly above the average Syrian asylum recognition rate of 84% in 2020. The recognition rate for Syrians able to pass admissibility in Greece in 2020 was 91.6% – one of the highest asylum recognition rates in Greece. If, on the other hand, you don't make it past the Greek islands, due to the admissibility procedure you will in effect be denied international protection and returned to Turkey, to face refoulement to Syria, prolonged arbitrary detention in inhuman, degrading conditions, and destitution. Syrians account for nearly 23% of arrivals to Greece by sea since January 2020, per UNHCR data. Getting to the mainland is almost impossible after reaching the islands: even those who need urgent medical treatment unavailable on the islands are currently being systematically denied transfer.

The admissibility procedure on the Aegean islands is unjust and unlawful. It functions to obstruct access to substantive asylum procedures in violation of international law. It condemns Syrians on the Aegean islands to live in limbo under the threat of refoulement on the arbitrary basis of where in Greece they arrived, which given the lack of safe and legal routes is in itself a cruel lottery. Subjecting certain nationalities to admissibility procedures also functions to pit people imprisoned on the Aegean islands by Europe's border regime against each other, in keeping with the age-old imperialist tactic of divide and rule.

PEOPLE ARE NOT 'INADMISSIBLE': FORTRESS EUROPE'S DIRTY DEAL IS!

5 YEARS ON ENOUGH IS ENOUGH: END THE EU-TURKEY DEAL!

---
3. New 'controlled' camp in Lesvos and the 'new' EU Migration and Asylum Pact
As the LCL has repeatedly denounced over the past 5 years, the EU-Turkey Deal transformed the 'hotspot' Greek Aegean islands of Lesvos, Samos, Kos, Leros and Chios into open-air prisons for migrants arriving from Turkey, through the introduction of a "containment" policy which prevents people who arrive from Turkey from leaving the islands and travelling onwards to the Greek and European mainland. This 'geographical restriction' has been – and continues to be – compounded by immiserating, violent, inhumane and degrading conditions in the camps that people trapped on the islands are forced to live in, serving the EU's underlying policy goal of deterring arrivals and preventing migration from the global south to Europe, at any human cost.

Meanwhile, border procedures introduced following the EU-Turkey Deal include fast-track procedures and detention on arrival based on nationality, which systematically obstruct access to asylum procedures. In these so-called 'pilot' projects introduced in Lesvos and Kos, single men from countries of origin with asylum recognition rates of under 25% are detained, normally for the duration of their asylum procedure, which is also accelerated (although this has not been in place since the fires that burned down Moria Camp in September 2020 led to the evacuation of the notorious detention centre PRO.KE.K.A). This policy amounts to discrimination on the basis of nationality and arbitrary deprivation of liberty, and it precludes the right to access both procedures and effective remedy as well as violating procedural requirements under both Greek and EU law which prohibit detention on the sole basis that people have applied for international protection. The disturbing ideology underlying the self-fulfilling "low profile detention scheme" should be evident from the fact that a police circular following its introduction in 2016 described people from "low recognition" nationalities as "economic profile" as opposed to "refugee profile" applicants.

In September 2020, the European Commission announced its 'new' EU 'Pact on Migration and Asylum', terming it a 'fresh start on migration". Far from a fresh start, the legislative proposals contained within the 'new' EU Pact replicate many of the worst aspects of the policies of containment, obstruction of access to asylum procedures, returns and refoulement tested in the laboratory of Lesvos and other hotspot Aegean islands over the course of the past 5 years since the EU-Turkey Deal.

The legislative proposal for a Screening Regulation, for example, is largely modelled on the existing Greek 'reception and identification procedure', and includes a mandatory 'pre-entry screening' procedure, throughout which people will not be deemed 'legally present' in EU territory. This pre-entry screening looks set to amount to arbitrary detention on arrival, without due process guarantees such as access to legal advice, effective remedy, and no clear process for identifying 'vulnerable' individuals. The legislative proposal for a new Asylum Procedures Regulation, meanwhile, contains an obligatory 'border procedure', applicable to individuals identified through pre-entry screening as originating from a country with an EU-wide asylum recognition rate of less than 20%, which will serve, in effect, to roll out across EU borders the 'border procedure' implemented on Aegean hotspot islands over the past 5 years. As set out above, such border procedures have been denounced as violating numerous due process guarantees, which in turn lead to unlawful returns and refoulement.

Another particularly disturbing proposal contained within the new Pact is the concept of 'return sponsorship' as a 'new form of solidarity measure', under which member states can choose to 'share responsibility' for asylum seekers either by accepting relocation or 'sponsoring' deportations on behalf of other member states. This surreal distortion of the notion of solidarity also raises legal questions about how such deportations can be challenged: whether the member state ordering or effecting returns will be accountable.

Added to this bleak picture for future European migration and asylum policy is the plan to construct new, 'controlled' camps (with restricted entry and exit) on the Aegean 'hotspot' islands, in remote locations, which will facilitate effective mass detention. Over the duration of the fifth year of the EU-Turkey Deal, Covid-19 related restrictions have in any case served as a guise for introducing effective mass detention for migrants in Lesvos, as well as for intensifying the racist police violence migrants are subject to. On 3 February 2021 – less than a month after the European Commission promised to increase funding to the Municipality of Mytilene to "help the Greek authorities face the challenges of specific realities like the one in the island of Lesvos" – the Municipal Council of Mytilene approved the construction of a new "controlled" camp in Lesvos. The construction of the new camp was approved by a margin of one vote, despite vehement local opposition over the past year. During the Council meeting, there were also racist, dog-whistle, speeches including promises that soon there will be no sight of migrants in the towns or on the streets, and the resolution itself emphasised the fact that the camp will be "outside the urban fabric and residential areas" in order to "meet safety and hygiene conditions and for the protection of the inhabitants of the area and residents in it" and promised to "continue the strict control of the activity of NGOs".

Far from even acknowledging the violence, misery and deaths directly caused by the EU-Turkey Deal over the past 5 years, European institutions are seeking to expand and replicate the violent model tested in Lesvos and other 'hotspot' Aegean islands across fortress Europe's borders, while replacing prison islands with effective prison camp structures on the islands. The content of the 'new' EU Migration and Asylum Pact only demonstrates that the objectives of the EU-Turkey Deal – deterrence of arrivals through any means necessary, deportations out of EU territory and border externalisation – remain fortress Europe's priority.
NO CAMPS, NO PRISONS, NOT HERE IN LESVOS, NOT ANYWHERE!

5 YEARS ON ENOUGH IS ENOUGH: END THE EU-TURKEY DEAL.

---
4. Systematic pushbacks in the Aegean
The EU-Turkey Deal's fifth year began with the Greek state unlawfully suspending the right to asylum on 1 March 2020 and violently fortifying its borders – with the EU praising Greece as Europe's "shield" and Frontex providing increased material support in a context of flagrant violations of fundamental rights and international protection obligations. Although the EU has been perpetrating violence against migrants at its borders for many years, including through pushbacks, it seems that Greek and EU officials believed the Covid-19 pandemic would provide the perfect cover to escalate their attack on migrants in the Aegean, with complete impunity.
From March 2020 to present, the official number of arrivals by sea to Greece has drastically dropped by a reported 85% as compared to 2019. In the same time frame, numerous reports and investigations have revealed a continuous, systematic practice of collective expulsions on the part of Greek authorities, carried out pursuant to a consistent modus operandi, with the documented complicity of EU agency Frontex. LCL has been contacted by over fifty survivors of seventeen collective expulsions since March 2020. In every account shared with LCL by pushback survivors, Greek authorities summarily, violently, expelled migrants from Greek territory without registering their arrival or facilitating access to asylum procedures. Whether in the middle of the sea or following a landing on an Aegean island, Greek authorities forcibly transfer migrants towards Turkish waters before abandoning them at sea on motorless, unseaworthy dinghies or liferafts, with absolute disregard for whether they live or die. Despite numerous reports, statements, investigations and denunciations of this ongoing attack against migrants, pushbacks at the Aegean sea border continue with impunity, functioning as an unofficial implementation of the EU-Turkey deal's objectives while the Turkish border remains officially closed.
That hundreds of people have been, and continue to be, forcibly transferred then abandoned in the middle of the sea by Greek authorities without means to call for rescue, on unseaworthy, motorless dinghies and liferafts constitutes a spectacular form of state violence against migrants. Beyond rights violations, LCL's position is that the constituent elements of the consistent modus operandi of collective expulsions in the Aegean, taken with the widespread and systematic nature of this attack, amount to crimes against humanity. The practice of systematic pushbacks with impunity reveals the extent to which fortress Europe treats migrants' lives as disposable, in a manner that has historically accompanied the commission of atrocity crimes. Today, for example, there are reports containing the unbearable news that at least three people are dead and one person is missing in the Aegean sea following another pushback, in which Greek authorities robbed a group of migrants of their belongings and abandoned them at sea.
However, the same total disregard for migrants' lives is inherent in the conditions in camps and detention centres people are forced to endure in Lesvos, which are violations of the right to freedom from inhumane and degrading treatment and torture, the right to liberty and security, to private and family life, to effective remedy, to freedom from discrimination, the right to life. It is inherent in people being forced to wait in limbo for years, cut off from family, friends, community, purpose, without being able to move forwards or backwards. It is inherent in the European Union increasingly prioritising and funding mass effective detention of migrants, through 'hotspot' systems, accelerated border procedures, forcible deportations, border militarisation, and border externalisation through deals of questionable legality with third countries and by making aid and other financial packages conditional on border fortification.
While the violence of pushbacks in the Aegean is scandalous and should be treated as such, it is by no means an aberration from the logic of Europe's border regime, which instrumentalises human suffering for the purpose of deterring migration, at any cost. Even if due process and reception standards mandated by the European asylum aquis were complied with in Lesvos many people would still be excluded, the system would remain violent and fundamentally insufficient to secure the conditions of human flourishing that everyone deserves. For this reason while the LCL will continue to document, denounce and seek redress for the systematic rights violations in Lesvos, we are conscious we must simultaneously organise for systemic change: Europe's human rights framework cannot fail people it was never designed to protect.

5 YEARS ON ENOUGH IS ENOUGH: END THE EU-TURKEY DEAL!
Our two reports on pushbacks as crimes against humanity in the Aegean are published today in Greek:
July 2020: ΟΜΑΔΙΚΕΣ ΑΠΕΛΑΣΕΙΣ ΚΑΤΑΓΕΓΡΑΜΜΕΝΕΣ ΣΤΗ
ΘΑΛΑΣΣΑ ΤΟΥ ΑΙΓΑΙΟΥ: ΜΑΡΤΙΟΣ- ΙΟΥΝΙΟΣ 2020
February 2021: ΕΓΚΛΗΜΑΤΑ ΚΑΤΑ ΤΗΣ ΑΝΘΡΩΠΟΤΗΤΑΣ ΣΤΟ ΑΙΓΑΙΟ
5. Nowruz reminds us that a different world is possible – a text written by LCL team member Fatima
(فار, eng, ελλ, سۆر, fr, عرب, kur)
نوروز در ایران و افغانستان و کردستان آغاز سال نو محسوب می‌شود و در برخی دیگر از کشورها یعنی تاجیکستان، روسیه، قرقیزستان، قزاقستان، سوریه، عراق، گرجستان، جمهوری آذربایجان، آلبانی، چین، ترکیه، ترکمنستان، هند، پاکستان و ازبکستان تعطیل رسمی است و مردم آن را جشن میگیرند
ما براین باور هستیم که در نوروز، همزمان با آغاز بهار، همینطور که طبیعت نو‌میشود، ما نیز باید روزگار جدید و‌نگرشی نو آغاز کنیم.
در آغاز سال نو و این جشن بزرگ، مهاجران در لسووس بیشتر از ۶ ماه است که در چادرهای تنگ و تاریک، کنار دریا، در محیطی شبیه به زندان که اجازه ی بیرون رفتن از آن را بیشتر از ۱ بار در هفته و آن هم برای فقط ۲ ال ۳ ساعت ندارند، با حداقل امکانات زندگی میکنند
به مهاجرانی می اندیشم که امسال به دور از خانه و کاشانه خود و در چنین شرایط سخت و‌اسفناکی در کمپ، سال جدید را آغاز می کنند
نمیدانم‌که آیا آنها میتوانند شادی سال نو و نوروز را احساس کنند و آن را کنار یکدیگر جشن بگیرند یانه؟
نمیدانم که آیا هنوز امیدی برایشان باقی مانده است که بتوانند لبخند بزنند و سال نو‌ را به یکدیگر تبریک بگویند یانه؟
نمیدانم که آیا آنها هرگز میتوانند خاطرات سخت این روزها را فراموش کنند یا اینکه همیشه مانند یک کابوس همراهشان خواهد بود
به امید اینکه سال جدید، آغاز بهتری برای تمام مهاجران در سراسر دنیا باشد
نوروز به ما یاداوری میکند که وجود یک‌ دنیای متفاوت ممکن است، نوروز ،همبستگی و‌اتحاد تک تک افرادی ست که برای ایجاد یک دنیای جدید می جنگند
Nowruz is the beginning of the new year in Iran, Afghanistan and Kurdistan and is an official holiday in some other countries, such as Tajikistan, Russia, Kyrgyzstan, Kazakhstan, Syria, Iraq, Georgia, the Republic of Azerbaijan, Albania, China, Turkey, Turkmenistan, India, Pakistan and Uzbekistan, where the people also celebrate it.
We believe that in Nowruz, with the beginning of spring, when nature renews itself, we should also turn over a new leaf and begin again with a fresh outlook.
At the beginning of the new year and all the festivities, migrants in Lesvos have now been living for over six months in dark, claustrophobic tents, next to the sea, in an environment like a prison which they are not allowed to leave more than once a week, and even then only for two or three hours, with the minimum necessities for life.
I think of the migrants who, this year, begin the new year far from their homes in such difficult conditions in the camp.
I don't know whether they can feel the joy of the new year and Nowruz and celebrate it among one another or not.
I don't know whether they still have a vestige of hope allowing them to smile and wish each other a Happy New Year.
I don't know whether they can ever forget the bitter memories of these days or if they will always stay with them like a nightmare…
In the hope that the new year will be a better beginning for all migrants across the world.
Nowruz reminds us that a different world is possible. Solidarity this Nowruz to everyone fighting for a new world.
***
Το Ναουρούζ είναι η αρχή του νέου έτους στο Ιράν, το Αφγανιστάν και το Κουρδιστάν και είναι επίσημη αργία σε ορισμένες άλλες χώρες, όπως το Τατζικιστάν, η Ρωσία, το Κιργιστάν, το Καζακστάν, η Συρία, το Ιράκ, η Γεωργία, η Δημοκρατία του Αζερμπαϊτζάν, η Αλβανία, η Κίνα, η Τουρκία, Τουρκμενιστάν, Ινδία, Πακιστάν και Ουζμπεκιστάν, όπου οι άνθρωποι το γιορτάζουν επίσης.
Πιστεύουμε ότι στο Ναουρούζ, με την αρχή της άνοιξης, όταν η φύση ανανεώνεται, πρέπει κι εμείς επίσης να γυρίσουμε ένα νέο φύλλο και να ξεκινήσουμε ξανά με μια νέα προοπτική.
Στις αρχές του νέου έτους και σε όλες τις γιορτές, οι μετανάστες στη Λέσβο ζουν, εδώ και πάνω από έξι μήνες σε σκοτεινές, κλειστοφοβικές σκηνές, δίπλα στη θάλασσα, σε ένα περιβάλλον σαν φυλακή, από όπου δεν τους επιτρέπεται να φύγουν περισσότερες από μία φορές την εβδομάδα, και ακόμη και τότε μόνο για δύο ή τρεις ώρες, έχοντας τα απολύτως απαραίτητα για την επιβίωσή τους.
Σκέφτομαι τους μετανάστες που, φέτος, ξεκινούν το νέο έτος μακριά από τα σπίτια τους σε τόσο δύσκολες συνθήκες στο στρατόπεδο.
Δεν ξέρω αν μπορούν να νιώσουν τη χαρά της νέας χρονιάς και το Ναουρούζ και να το γιορτάσουν μεταξύ τους ή όχι.
Δεν ξέρω αν έχουν ακόμα ένα υπόλoιπο ελπίδας που να τους επιτρέπει να χαμογελούν και να ευχηθούν ο ένας στον άλλο μια καλή χρονιά.
Δεν ξέρω αν θα μπορέσουν ποτέ να ξεχάσουν τις πικρές αναμνήσεις αυτών των ημερών ή αν θα μείνουν πάντα μαζί τους σαν εφιάλτης…
Με την ελπίδα ότι η νέα χρονιά θα είναι μια καλύτερη αρχή για όλους τους μετανάστες σε όλο τον κόσμο.
Το Ναουρούζ μας υπενθυμίζει ότι ένας διαφορετικός κόσμος είναι δυνατός. Αλληλεγγύη αυτό το Ναουρούζ σε όλους αυτούς που αγωνίζονται για έναν νέο κόσμο.
***
نەورۆز لە ئێران و ئەفغانیستان و کوردستان بە هیمای نوێ بوونەوەی ساڵی تازەتە و لە هەندێک وڵاتانی تر وەکوو تاجیکستان و رووسیا و قرقیزستان و قەزاقستان سوریەو ئەراق گورجستان وکوماری ئازەربایجان البانی و چین ترکیە و تورکمەنیستان وهند و پاکیستان و ئەزبەکیستان ئەم روژە بەرز را دەگرن و هەموو شوینک دادەخرێت
ئەمە لە سەر ئەو باوەرەین کە بە نەوروز هێمای نوی بوونەوەی کەژو کیوەکانە و دەرفەتێکە بو تازە کردنەوە بیرو ڕا کان وو سەرەتایکی نوێ
لە سەرەتای ساڵی تازەو و ئەم بۆنە پیروزە ئێمەی پەنابەرلە جەزیرەی لێسڤوس زیاتر لە شەش مانگە کە لە خەیمە هایکی بچکولانە و تاریک دا لە قەزاغی ئاوی نیجە لە وڵاتی یونان و لە شوێنکی وەکوو زیندان کە لە هەفتەیکدا یەک جار بومان هەیە بروینە دەروە ئەویش بەس بو ٢ بو ٣ ساعەت بە کەمترین ئەمکاناتی ژیانەوە دەین
بیر لە ئەو پەنابەرانە دەکەینەوە کە ئەمساڵ بە دووری لە بنەماڵێکانیان لە یانکی ئاوا قورس دا لە کەمیکی لە شێوەی سجن دا نەوروز دەگرن بەلام نازنین کە ئیا ئەتوانن کە ئایا ئەتوانین لە سەرەتای هاتنی ساڵی تازە ئەو روە بە خوشی بەریەنە سەر یان نە ؟
نانزانین کە ئایا هیچ هیوایک ماوەتەوە لە دڵیاندا کە بتوانن بە بزەیکی لە سەر لیویان نەوروز پیروز بکەن لە یەکتر یان نە ؟
نازانین کە ئایا ئەتوانین قە ئەم روژانە لە بیر بکەین یان وەکوو کابووسێک بۆ هەتا هتایە لەگەڵمان ئەمێنێتەوە …… ؟
بە ئەو هیوایە کە ئەم ساڵی تازە بێتسەرەتکی ساڵی پر لە سەرکەوتن بو هەموو پەنابەرانی دونیا
نەوروز وە بیرمان دێنێتەوە کە بوونی دونیاکی جیاواز بۆی هەیە ، نەورۆز هیمای یەک بوونەوەی ئەو کەسانەیە کە بو دونیایکی جیاواز و باشتر دەجەنگن
***
Norouz marque le début de la nouvelle année en Iran, en Afghanistan et au Kurdistan et c'est un jour férié dans d'autres pays, comme le Tadjikistan, la Russie, le Kirghizstan, le Kazakhstan, la Syrie, l'Irak, la Géorgie, la République d'Azerbaïdjan, l'Albanie, la Chine, la Turquie, le Turkménistan, l'Inde, le Pakistan et l'Ouzbékistan, où la population le célèbre également.
Nous pensons que pendant Norouz, avec le début du printemps, lorsque la nature se renouvelle, nous devrions nous changer en feuille nouvelle et recommencer a porter sur les choses un regard nouveau.
Au début de cette nouvelle année et de ses festivités, les migrants de Lesvos vivent depuis plus de six mois dans des tentes sombres et étriquées, au bord de la mer, dans un environnement semblable à une prison avec le minimum vital et qu'ils ne peuvent quitter qu'une fois par semaine, et encore, seulement pour deux ou trois heures.
Je pense aux migrants qui, cette année, commencent la nouvelle année loin de chez eux, dans des conditions aussi difficiles dans le camp.
Je ne sais pas s'ils peuvent ressentir la joie de la nouvelle année et du Norouz et la célébrer entre eux ou non.
Je ne sais pas s'ils ont encore un peu d'espoir leur permettant de sourire et de se souhaiter une bonne année.
Je ne sais pas s'ils pourront un jour oublier ces souvenirs amers ou s'ils resteront toujours en eux comme un cauchemar…
Dans l'espoir que la nouvelle année sera un meilleur départ pour tous les migrants à travers le monde.
Norouz nous rappelle qu'un monde différent est possible. Solidarité ce Norouz à tous ceux qui luttent pour un monde nouveau.
***
عيد النيروز هو بداية العام الجديد في إيران وأفغانستان وكردستان وهو عطلة رسمية في بعض الدول الأخرى مثل طاجيكستان وروسيا وقيرغيزستان وكازاخستان وسوريا والعراق وجورجيا وجمهورية أذربيجان وألبانيا والصين وتركيا وتركمانستان والهند وباكستان وأوزبكستان ، حيث يحتفل به الناس أيضاً
نعتقد أنه في عيد النيروز ومع بداية الربيع ، عندما تجدد الطبيعة نفسها ، يجب أن نفتح صفحة جديدة ونبدأ من جديد بنظرة جديدة
في بداية العام الجديد والاحتفالات ، يعيش المهاجرون في ليسفوس الآن منذ أكثر من ستة أشهر في خيام مظلمة وضيقة بجوار البحر ، في بيئة مثل السجن حيث لا يُسمح لهم بمغادرته أكثر من مرة في الأسبوع وفقط لمدة ساعتين أو ثلاث ساعات لتأمين الحد الأدنى من ضروريات الحياة
نفكر في المهاجرين الذين بدأوا هذا العام ، العام الجديد بعيداً عن منازلهم في مثل هذه الظروف الصعبة في المخيم
.لا أعرف ما إذا كان بإمكانهم الشعور بفرحة العام الجديد والنيروز والاحتفال به بين بعضهم البعض أم لا
.لا أعرف ما إذا كان لا يزال لديهم بقايا أمل تسمح لهم بالابتسام والتمني سنة جديدة سعيدة لبعضهم البعض
…لا أعرف ما إذا كان بإمكانهم نسيان الذكريات المرة لهذه الأيام أم أنها ستبقى معهم دائماً كالكابوس
.نعيش على أمل أن يكون العام الجديد بداية أفضل لجميع المهاجرين في جميع أنحاء العالم
.يذكرنا النيروز أن عالم مختلف ممكن حدوثه في المستقبل
.تضامن هذا النيروز مع كل من يناضل من أجل عالم جديد

***
Cejna Newrozê, pîrozbahîya destpêkirina serê salê li Iranê, Afxanistanê û Kurdistanê ye. Wekî din jî Newroz li welatên din mina Tajîkistanê, Rûsê, Krgyzstanê, Kazakhstanê, Surîyê, Îraqê, Georgyayê, Komarê Azerbaijanê, Albanyayê, Çinê, Turkîyê, Turkmenistanê, Hindistanê, Pakistanê û Uzbekistanê cejnayekî fermî ye, ji ber ku li wan welatan jî milet vê cejna pîroz dikin.

Li gorî me, bi derketina Newrozê buharê destpekê dike û xweza xwe ji nû ve dike. Wê dema pewîst e ku em jî xwe ji nu ve dikin û bi perspektifekî nû, dest pê dikin.

Lêbelê di serê salê de û di navbera hemu pîrozbahîyan de, şeş heyv çebûnê ku koçberên li Lesvosê di bin konên tarî û teng û li ber derîyê de, jiyanê xwe didin meşandin. Çarcoveya wan wekî zindanek e, desturê wan tuneye ku ew her heftîyek ji carek zedetir ji vê kampê derbikevin, û wê dema jî ew dikarin tene ji bo 2 3 saetan û ji bona peydakirina pewistîyên herî kem a ji bona jiyanê xwe, derbikevin.

Ez li ser ew koçberan ên ku vê serê salê dur ji mal û milkê xwe û di şert û mercên gelekî zehmet de destpêdikin, difikirim.

Ez nizanim eger ew dikarin keyfxweşîya serê salê û Newrozê hest dikin, eger ew dikarin di nav xwe de Newrozê pîroz dikin, an na.

Ez nizanim eger tozekî hevî di dilên wan de hin mayê da ku ew bikarbin bikenin û 'Newrozê te pîroz bê' di navbera xwe de, bibejin.

Ez nizanim eger ew bikaribin bîranînên xwe yên tahl ên li ser wan rojan ji bîr bikin, yan eger ew bîranînan ê her tim cem wan wekî kabûsek biminin.

Bi hevîdarî ku vê serê salê wê ji bona hemu kocberên cihanê dibe destpêkirinekî baştirê. Newroz binê bîrê me ku cihanekî din, mumkin e. Di vê Newroz de, silav lê her kes ku ji bona cihanekî nû, berê xwe dide.