Here they try to hide it. But refugees live in the new model of a concentration camp.
During World War II there were concentration camps where millions of people were kidnapped and forced to be interned there. In what remains one of the great shames of Europe, millions were killed in mass in these concentration camps and in the extermination camps that followed.
Europe has changed its style of concentration camps, but continues to run them.
On paper there are some so called Human Rights that the powerful Western states use to protect their own interests, although for others these so called human rights documents only serve for the authorities to wash their hands and show that legality is being respected.
Currently, there are no extermination camps with gas chambers, but the concentration camps are still in existence, strategically killing in other ways.
In Moria Refugee Camp, people who come to Europe seeking life, not only do not find the famous Human Rights but they are met with hunger, terror, misery, hopelessness and death.
This weekend one child died in the refugee camp, stabbed to death. Few media outlets took notice. There have been no public protests. Not a minute of silence.
Another statistic for the list that does not stop growing: of murders, suicides, untreated diseases, hunger, hopelessness.
The Greek government and the European Union qualify refugees who arrive here as crazy and as criminals. This is far from the reality, but the conditions of the camp have made people lose their minds, without structure, without the possibility of advancing or being able to regain control of their lives. It is the strategy of the powerful to strip them of their humanity.
Dear European citizens: these people don't want to die, they don't want to kill or hurt each other. They have escaped war, death, and violence. They are asking for asylum to live, not to die !!!!
They do not know that they are experiencing a new concentration camp model.
Once they arrive here they find extreme conditions, 12 hours of queue to get a plate of food, one tent to share between 3-4 families, stacked one above the other, sleeping in extreme weather conditions.
They do not know what the future that awaits them holds and there is no one to listen to them and recognize their dignity as humans.
We really don't know how we can help them, when the police refuse to take any action (and make it almost impossible to file a complaint, considering them scum); UNHCR's doors and meetings are closed to the refugees themselves; NGOs are silenced by the threat of being accused of human trafficking; without a medical team prepared with sufficient doctors, psychologists, psychiatrists, educators or social workers. Constant calls for help from refugees to all entities… walking in circles, like a fish that bites its own tail, without anyone really getting them out of this hell.
Friends. People who read this article. Surely you are thinking that I have no hope; I know this article is harsh. The reality is even harsher and something must be done to reverse this situation. We need a new revolution of the conscience to stop this from occurring. If we do nothing, we are contributing to it. So don't turn your back on this situation, on these people who deserve to live just like you.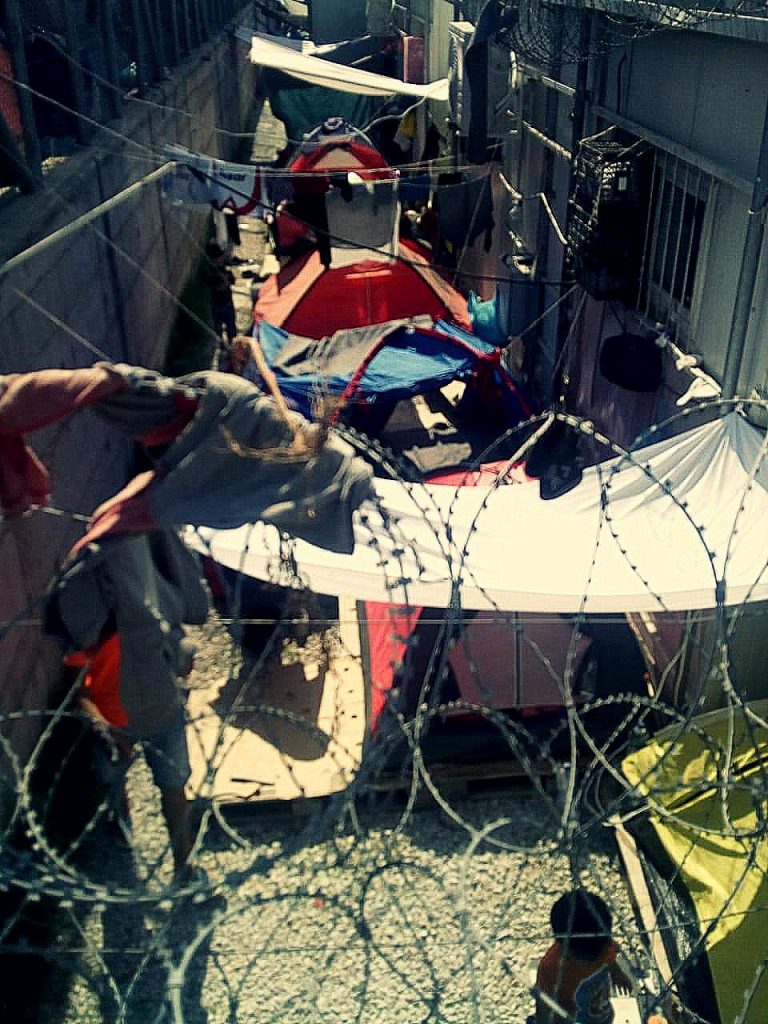 Un nuevo modelo de campo de concentración: Moria (Lesvos, Europa)
Aquí intentan ocultarlo. Pero los refugiados viven en el nuevo modelo de campo de concentración.
Durante la Segunda Guerra Mundial había campos de concentración donde millones de personas se veían raptadas y obligadas a estar allí. En lo que sigue siendo una de las grandes vergüenzas Europeas, millones fueron exterminados en estos campos de concentración y en los campos de exterminación.
Europa ha cambiado su estilo de campos de concentración, pero los sigue manteniendo.
Por suerte hay unos "papeles" llamados Derechos Humanos que sirven a los estados poderosos occidentales para proteger sus propios intereses, aunque para los demás sólo sirven para que las autoridades lavan las manos y hacen ver que la legalidad está siendo respetada.
Actualmente, no hay campos de exterminación con cámaras de gas, pero los campos de concentración sigue en existencia, matando estratégicamente de otras maneras.
En el Campo de Refugiados de Moria las personas que vienen a Europa buscando la esperanza de vida no sólo no encuentran los famosos Derechos Humanos sino que encuentran el hambre, el terror, la miseria, la desesperanza y la muerte.
Este fin de semana ha muerto un menor en el campo de refugiados, acuchillado. Pocas noticias al respeto. Ni una manifestación. Ni un minuto de silencio.
Una cifra en la lista que no para de crecer: de asesinatos, suicidios, enfermedades no tratadas, hambre, desesperanza.
El gobierno griego y la Unión Europea califican a los refugiados que llegan aquí de locos y criminales. La realidad no es ésta sino que las condiciones del campo les enloquece, sin referentes, sin posibilidades de avanzar ni poder volver a tener el control de sus vidas. Es la estrategia de los poderosos de quitarle la humanidad.
Estimados ciudadanos europeos: esta gente no quiere morir, no se quieren matar ni herir unos a otros. Ellos han escapado de la guerra, de la muerte, también de la violencia. Estando pidiendo asilo para vivir, no para morir !!!!
Ellos no saben que están experimentando un nuevo modelo de campo de concentración.
Una vez que llegan aquí se encuentran condiciones extremas, 12 horas de cola para conseguir un plato de comida, una tienda para compartir entre 3-4 familias, una sobre la otra, durmiendo en condiciones climáticas extremas.
No saben cuál será el futuro que les espera y no hay nadie que los escuche y les haga sentir personas llenas de dignidad.
Realmente no sabemos cómo les podemos ayudar cuando la policía se niega a tomar ninguna acción (y les hace casi imposible presentar denuncia, considerándolos escoria); las puertas y reuniones de ACNUR son cerradas a los refugiados mismos; las ONG están silenciadas por la amenaza de ser imputadas por tráfico de personas; sin un equipo médico preparado con médicos, psicólogos, psiquiatras, educadores o trabajadores sociales. Constantes llamadas de ayuda de los refugiados… a todas las entidades, caminando en círculo, como un pez que se muerde la cola, sin que nadie realmente los pueda sacar de este infierno.
Amigos. Personas que leáis este artículo. Seguro que han pensado que no tengo esperanza, sé que este artículo es duro. La realidad es aún más dura y habrá que hacer algo para revertir esta situación. Necesitamos una nueva revolución de las conciencias para no permitir que esto suceda. Si no hacemos nada, contribuimos a ello. Así que no demos la espalda a esta situación, a estas personas que se merecen vivir un vida igual que tu.