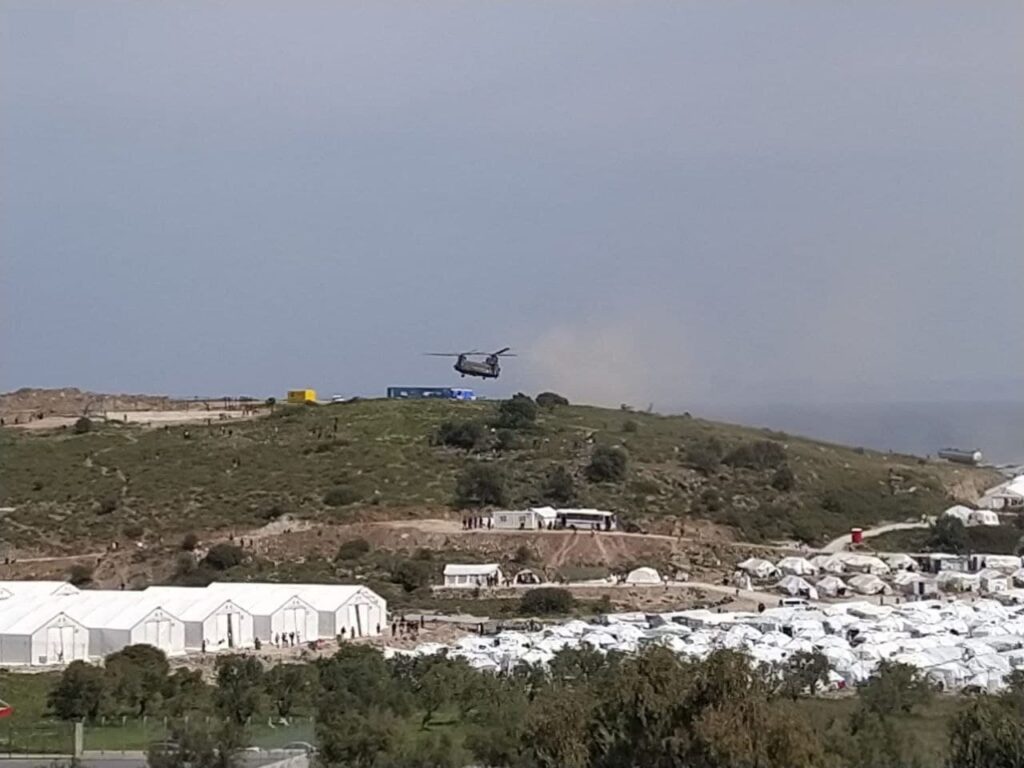 Ylva Johansson, the EU Commissioner for Home Affairs, visited Lesvos yesterday with the clear purpose of continuing to push the European Commission's agenda, as articulated in the EU's proposed new 'Pact on Migration and Asylum'. If adopted, this Pact will see disastrous policies which have already been tried and failed in Lesvos rolled out all across the borders of fortress Europe, while expanding rich European states' ability to violently deter, detain and deport people at arm's length.
'No more Morias' (apart from 'Moria 2.0', and the new one we are building)
In a blog post announcing her visit, Johansson co-opts a slogan of anti-fascist organising on Lesvos: "no more Morias." Yet after Moria itself burned to the ground in September 2020 – a catastrophe years in the making – it was swiftly replaced by a 'Moria 2.0', funded by the European Commission and UNHCR, widely described by its inhabitants as worse than old Moria. 'Moria 2.0' (Karatepe / Mavrovouni Temporary Reception and Identification Centre) is not fit for human habitation. Nearly 7,000 people live there in miserable conditions on a rocky outcrop exposed to all elements, hastily transformed from a military firing range to a camp in September 2020, contaminated with lead, with insufficient healthcare, privacy, shelter, electricity, food, running water, hot showers or other hygiene facilities. Physical distancing to prevent the spread of Covid-19 is impossible, given numbers of people accommodated in inadequate tent structures, which repeatedly collapse or flood, given people have to queue to access all basic necessities, and do not have access to enough water or soap to regularly wash themselves or their hands. Successive interim measures granted by the European Court of Human Rights recently, instructing the Greek government to guarantee the rights of Legal Centre Lesvos clients accommodated in the new camp to be free from inhuman and degrading treatment, are an indictment of living conditions in Moria 2.0.

Moria 2.0 is even more of a prison for its inhabitants than old Moria ever was. The pandemic has served as the perfect excuse to control the movement of migrants in Lesvos to such a degree that the camp amounts to a site of effective mass detention, while restrictions are applied in a discriminatory manner. While the general population of Lesvos have a 9pm curfew and are required to carry justifications for movement, migrants living in the camp are subjected to a separate regime: a more stringent 5pm curfew, with only one family member permitted to leave the camp once a week except for medical or legal appointments. Even with written justification, permission to leave the camp is often arbitrarily denied. Outside the camp and in the streets of Mytilene, police disproportionately target racialised people in checking documents and justifications for movement as well as in imposing fines. 

Yet even the detention-like conditions of Moria 2.0 are only a glimpse of what is to come. In a joint press conference on Lesvos yesterday with Johansson and Greek Minister of Migration and Asylum Mitarachis, Johansson announced a further €155 million for Lesvos and Chios to fund the construction of what both politicians repeatedly described as "controlled centres". The new migrant prison in Lesvos will be – as Mitarachis emphasised – "based on a system of controlled entry and exit… fenced all around… a new type of camp… outside the town". And while in the press conference Mitarachis complained that there had been too many "semantics" surrounding the new camp, and Johansson nervously laughed as she claimed; "we will not detain people just because they are migrants!", it is eminently clear that the new camp, located in the middle of nowhere with restricted entry and exit, will function even more like a prison than Moria 2.0 currently does. Mitarachis added that there "will be a closed area" inside the controlled centre – a prison, inside a new prison camp, on a prison island. Prisons within prisons within prisons: fortress Europe's "fresh start" on migration and asylum looks set to be a never-ending Russian doll of effective incarceration for migrants.

The 'new' EU Pact on Migration and Asylum: 'solidarity' among violent border regimes
The new EU Pact that Johansson is touting will see Moria-like hotspots introduced and entrenched all along the borders of Europe. The legislative proposals contained within the 'new' Pact replicate many of the worst aspects of the policies of containment, obstruction of access to asylum procedures, returns and refoulement tested in the laboratory of Lesvos and the other hotspot Aegean islands over the course of the past 5 years since the EU-Turkey 'deal'.

Speaking about the 'new' Pact in yesterday's press conference, Johansson emphasised the need to "protect our external borders" and – in a hideous distortion of the word – described this as "part of solidarity". She stated that "Frontex has an important role to play in this [border protection]" and the Pact itself proposes "a stronger role for the European Border and Coast Guard Agency" – despite the fact that just last week the European Parliament refused to approve Frontex's budget due to growing allegations of Frontex's involvement in human rights violations at fortress Europe's borders, including evidence of complicity in pushbacks in the Aegean. When questioned on pushbacks in the Aegean yesterday, Johansson simply repeated her discourse on "protecting our external borders", before later voicing her "concern" at the recent UNHCR submission of evidence concerning several hundred alleged Aegean pushbacks to the Greek authorities for investigation. Mitarachis, meanwhile, continued to "strongly deny the Greek coastguard has ever been involved in pushbacks", hinting that such "fake news" is linked to the "loss of tens of millions of Euros to smuggling networks".

Johansson's warped use of "solidarity" to describe what amounts to violent border fortification and militarisation is echoed in the grim use of this word – which belongs to the people, not the European Commission – in the 'new' EU Asylum and Migration Pact. A particularly disturbing concept within the legislative proposal within the new Pact for a Regulation on asylum and migration management, is "return sponsorship" as a "new form of solidarity measure", under which member states can choose to "share responsibility" for asylum seekers either by accepting relocation or "sponsoring" deportations on behalf of other member states. "No member state would be obliged to contribute through relocations, as it could choose to sponsor returns instead", the proposal insists. 

Both Johansson and Mitarachis also spoke in yesterday's press conference about the importance of "avoid[ing] irregular departures" – a euphemism for Europe's border externalisation drive, which functions through deals of questionable legality with countries such as Turkey and Libya, and through imperialist dynamics in which aid from, trade agreements with, and visa policies for, the European Union are made conditional on states in the global south acting as violent border guards for fortress Europe. In the press conference Johansson emphasised the importance of "readmission cooperation with third states", including potential changes in visa policies "according to whether they are cooperating or not". She also called upon Turkey "to urgently resume returns from Greece – despite Turkey's recent withdrawal from the Istanbul Convention on preventing and combating violence against women serving as further evidence of the already well documented fact that Turkey is not a 'safe third country'. 

Johansson and her colleagues in the European Commission are careful in their use of language. Johansson's statement explaining her visit to Lesvos was entitled "Spring is the best time to prepare for winter" – a bizarre invocation of the seasons which – just like saying "winter hardship in 2020-2021 was unfortunate" – functions to make the systematic immiseration, suffering and deaths on the Aegean islands over the past 5 winters sound inevitable: obscuring the fact this forms part of a clear European policy of instrumentalising human suffering to deter migration at any human cost.

There is no 'solidarity' in the European Commission's new Pact. Their vision is of a fortified, technocratic deportation machine whirring away on the borders of Europe, bankrolled by rich European nations 'sponsoring' poorer nations in the south of the EU and abroad to do the dirty work of detention and deportation for them, far enough away that the stink of dirty money never reaches Brussels.
Rather than whitewashing the systematic violence perpetrated in the name of 'border management' under the false claim of 'solidarity', Johansson and her colleagues in the European Commission would do better to act in accordance with what solidarity really means: acting – in recognition of the fact that migration is both something people have always done and is a consequence of Europe's historic and ongoing imperialist ventures – to defund, demilitarise and dismantle Europe's border regime, and to immediately end the failed, violent policies trialled in the laboratory of Lesvos.