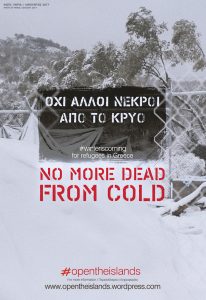 Today, 12 October, 2017, the Legal Centre Lesvos joins over 40 solidarity groups and organizations from the Greek islands, Athens, and abroad, calling for urgent action from Greek government. We also demand that the EU immediately cancel the inhumane EU-Turkey deal.
Since the EU Turkey statement came into force on March 20th 2016, thousands of refugees are trapped on the Greek islands. Last winter, six people who were seeking refuge and protection in Europe died in Moria Refugee Camp, their deaths linked to inhumane winter living conditions. We are shocked and outraged at the current situation in Lesvos as winter sets in, with approximately 5000 people living in a camp with less than half the capacity. Many refugees face their second winter living in Moria Refugee Camp.
We have joined forces with grassroots and solidarity organizations today to demand that Moria Refugee Camp and other hotspots be closed and that refugees be granted freedom of movement, so they can freely travel off the Greek islands to contintental Europe.
---
For our full statement and list of signatories, and to follow the campaign, please see:
#opentheislands
#winteriscoming