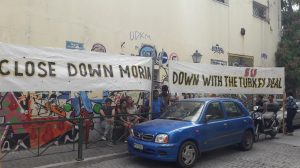 Inhumane and dangerous conditions in Moria camp

Afghan community protest

Anti-fascist demonstration in Mytilene

EU Co-ordinator of the EU-Turkey Statement meets with resistance on his visit to Lesvos

Legal Centre Lesvos Legal Updates


Family Reunification

Moria 35


General Legal Updates

Decision of Greek Council of State sets dangerous precedent for forcible returns to Turkey under EU-Turkey Deal
Returns to Greece begin from Germany and other European States
Detention of 28 nationalities in accelerated procedure
---
Inhumane and dangerous conditions in Moria camp
Living conditions in Moria camp have become unbearable over the past month as a dramatic increase in arrivals coincides with a deterioration in the weather and inadequate provision of food, shelter, healthcare and hygiene. Between the 1st and 26th of September 2017, 2,238 people risked their lives crossing the Mytilene Strait from Turkey to Lesvos, while during September 2016, 1068 people made this journey. Authorities have given estimates that the number of new registrations is over 200 people per day, which is the highest since March 2016. Moria camp is now at over double its capacity: at least 4,831 people are living in a camp equipped to accommodate no more than 1,800. In recent days, tents – which are fundamentally unfit for winter weather or long term accommodation – have been flooded from the rain.
Clients visiting the Legal Centre report that summer camping tents are crammed into every available space in Moria to accommodate new arrivals, that there are up to 20 people housed in containers meant for 5, that access to water gets cut off for days at a time, that there is no access to healthcare, that there are particularly vulnerable individuals – heavily pregnant women, people in wheelchairs, survivors of sexual, psychological, physical violence and torture, unaccompanied minors and pregnant minors – among those living in conditions unfit for human habitation; that there is widespread despair and mounting unrest.
In the winter of 2016-2017, in similarly crowded and inhumane conditions at least five people died in the cold in Moria Camp. When questioned about plans for 'winterization' of the camp for the approaching winter, a UNHCR representative responded that one solution would be increased returns to Turkey. Return to Turkey of asylum seekers violates the basic tenets of rights guaranteed to refugees and is clearly not a solution to the inhumane treatment that asylum seekers currently face in Lesvos.
The current reception conditions in Lesvos are in abject violation of the provisions of the Recast Reception Conditions Directive 2013/33/EU, Recital 11 of which demands "Standards for the reception of applicants that will suffice to ensure them a dignified standard of living", and Article 17(2) of which mandates:
"Member States shall ensure that material reception conditions provide an adequate standard of living for applicants, which guarantees their subsistence and protects their physical and mental health. Member States shall ensure that that standard of living is met in the specific situation of vulnerable persons, in accordance with Article 21, as well as in relation to the situation of persons who are in detention."
In the face of the deplorable violation of these requirements that current conditions constitute, removing geographical restrictions amounts to a binding legal obligation under Article 7(1) of the Reception Conditions Directive since the assigned area of Lesvos does not allow sufficient scope for guaranteeing access to all benefits under the Directive:
"Applicants may move freely within the territory of the host Member State or within an area assigned to them by that Member State. The assigned area shall not affect the unalienable sphere of private life and shall allow sufficient scope for guaranteeing access to all benefits under this Directive."
Legal Centre Lesvos therefore calls on Greek and EU authorities to immediately remove geographical restrictions placed on applicants for international protection and permit free movement to mainland Greece, where other European states must respect relocation programs so that the minimum reception conditions required to safeguard human dignity can be met. The current situation in Moria only compounds the already well-documented fact that reception conditions under the Common European Asylum Procedure are being systematically violated in Lesvos.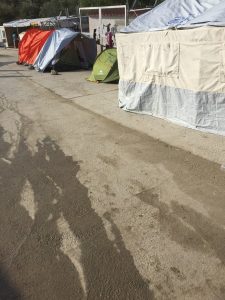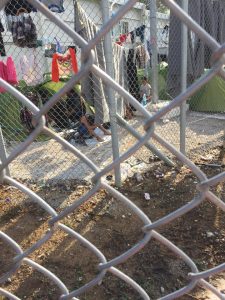 Photo credit: Lesvos Solidarity – Pikpa Facebook
Afghan Community protest
On Monday 28th August, the Afghan refugee community in Lesvos marched from Moria to Sappho's Square Mytilene, protesting their confinement to the island for what in many cases has been over a year. Protesters wore T-shirts with their asylum status – "no decision" – and their dates of arrival in Greece marked in red pen – like the red stamp on International Protection Applicant documents that signifies geographical restriction to Lesvos. The protest echoed the demands of both the Afghan community protests in Athens the prior week, and the collective protests in Moria held on 17th and 18th of July. The Afghans participating in the protest issued the following statement:
"Today Afghan refugees are protesting our imprisonment on Lesvos. Many of us have been here for over a year trapped on this island, and we are still waiting for decisions. We join the struggle of protests held on 17 and 18 of July, and demand that the right to freedom of movement be granted for asylum seekers who have been here since 2016. We also join the call of Afghan refugees who protested last week in Athens, and call on Greece to halt all deportations of Afghans. From the recent massacres of unarmed civilians in Mirzaolang in northern Afghanistan, in which children, women, and elderly were ruthlessly killed, to the daily suicide bombings across the country, to the reckless US drone strikes in Nangarhar, Afghan Asylum Seekers in Greece say — Afghanistan is not a safe country, and all deportation should stop."
The protesters camped in Sappho Square, waiting for the Greek Authorities respond to their demands. After police threats, harassment and detention of community leaders, two days after their protest began a representative of the European Asylum Support Office in Lesvos and the Commander of Lesvos Police met with the protesters. The representative of EASO reportedly promised them that the following Tuesday decisions would be issued for Afghans who had been waiting in Lesvos since 2016, so they decided to end their sit-in. The following Tuesday 5th September, representatives of the Afghan community were again told by EASO officials that they must wait for decisions.  The community attempted to meet with the Greek Minister of Immigration Policy – Ioannis Mouzalas – when he visited Moria Camp on 6 September, but he refused to meet with any refugees. They also submitted a letter to the Regional Greek Asylum Office, EASO, and the Greek Ministry of Migration on 7 September 2017, with two simple demands – first, the issuance of decisions and granting freedom of movement throughout Greece for all asylum seekers who arrived in Lesvos in 2016; and second, an end to all deportations to Afghanistan and Turkey. To date this letter remains unanswered and Afghan asylum seekers remain in limbo on Lesvos.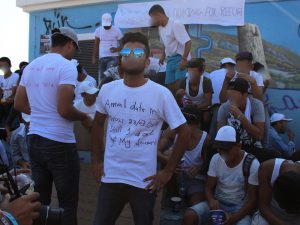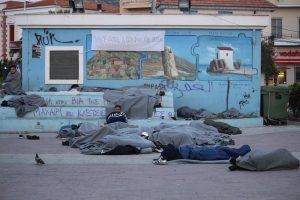 Photo credits: Joan Mas
Anti-fascist demonstration in Mytilene
On Monday 18th September, Αντιφασιστικός Συντονισμός Λέσβου (Lesvos Antifa) organised a march through Mytilene to: "make it clear once again that any right-wing fascist logic has no place on the island of Lesvos". The demonstration formed part of co-ordinated anti-fascist actions across Greece, commemorating four years since the anti-fascist rapper Pavlos Fyssas (Killah P) was murdered on 18 September 2013 by fascist George Roupakia, who worked for and publically supported Golden Dawn – the fascist party that currently holds 17 seats in Greek parliament. At the time, Fyssas' murder sparked a wave of anti-fascist resistance across Greece and Europe. It is now central to 'the biggest trial of fascist criminality since Nuremberg', in which members of the Golden Dawn party leadership stand accused of directing criminal violence including Fyssas' murder and other violent street attacks perpetrated by fascists against migrants and leftists, including against a group of Egyptian migrants and members of a communist-affiliated trade union. Proceedings in this politically charged trial began again at the beginning of September. While a ruling on the Golden Dawn party that casts it as institutionally criminal would be significant, in a post about resistance on September 18th, Αντιφασιστικός Συντονισμός Λέσβου (Lesvos Antifa) was careful to highlight the limitations of this form of justice in the struggle against fascism; by tracing the connections between fascist ideology, the state and the violent logic of borders:
"Fascism has historically never been institutionally fought by state mechanisms, as it is the most violent and oppressive form of capitalism. And that is because it is the state that builds fences and minefields at the border, evacuates the occupations of migrants, creates concentration camps, attacks those who organise resistance "from the bottom", i.e the same subjects that are the target of the fascists."
"In contrast to this, our world is that of equality and solidarity, and we are willing and prepared to do everything we can to defend it."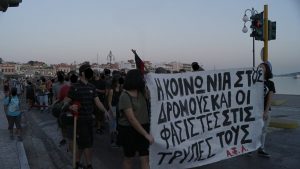 Photo credit: Αντιφασιστικός Συντονισμός Λέσβου Facebook
EU Co-ordinator of the EU-Turkey Statement meets with resistance on his visit to Lesvos
On Thursday 21st September, Mr. Maarten Verwey, EU coordinator for implementation of the EU-Turkey Statement, traveled to Lesvos and met with authorities in Moria Camp, Karatepe Camp, and the Mytilene mayor's office. He did not, however, meet with any of the individuals best placed to brief him on the impact of the EU-Turkey Statement: the refugees and asylum seekers who know all too well how refugees are treated in Turkey, and as a consequence of the 'deal', have been trapped on Lesvos for months and years living in inhumane and degrading conditions in perpetual fear of deportation.
Mr. Verwey visited Lesvos just a few weeks after the European Commission issued its Seventh Report on the Progress made in the implementation of the EU-Turkey Statement. As in previous reports, the European Commission recommends increased returns to Turkey, and notably omits information on conditions for non-Syrian refugees who are deported to Turkey under the "readmission" scheme despite clear evidence that Turkey systematically violates the rights of refugees returned from Greece.
The report also echoes previous recommendations by the European Commission to increase security, decrease risk of absconding, and recommends that Greece consider returning to Turkey vulnerable individuals and individuals applying for family reunification within European States under the Dublin III Regulation. It also recommends keeping vulnerable individuals restricted to the Greek islands throughout the asylum process. Until now, the Greek State has not returned to Turkey any individuals whose Dublin applications for transfer to a second European State have been accepted, and the Greek Asylum Service has granted freedom of movement throughout Greece to individuals who they find to be vulnerable. The European Commission putting continued pressure on Greece to refuse entry to even the most vulnerable refugees exposes their intention to prioritise maintaining Fortress Europe above respect for international human rights protections and basic humanity.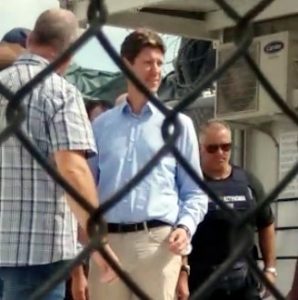 Local actors and refugees will continue to denounce, organize and protest against the EU-Turkey Statement and its devastating impact on the lives of individuals and families seeking protection in Europe.
Legal Centre LesBos Legal Updates
The Legal Centre has had good news in the case of a client we have been representing for nearly a year. After rejecting the application twice, Germany has finally accepted an application for family reunification under the discretionary and dependency provisions of Articles 16 and 17 of the Dublin III Regulation 604/2013 thanks to the coordinated efforts of the Legal Centre team. The chances of success in such cases are vanishingly slim, particularly in light of Germany's recent suspension of family reunification procedures. As such, we are very happy to announce that the client will soon travel to be reunited with her daughter and grandchildren in Germany. The case serves as an example of why it is always worth fighting to do everything possible de jure, irrespective of the de facto collapse of some parts of the applicable European legal framework.
The preliminary hearing procedure in the case of the Moria 35 has been ongoing for two months due to the Greek state's failure to provide Bambara and Wolof language translators for four defendants. While this preliminary procedure is unconcluded, the 30 defendants interrogated by the judge in July and ordered detained awaiting trial, remain incarcerated in prisons in Chios and Athens despite a lack of credible evidence against them. However, the delay has contributed to a victory in the case of one of the four defendants. While it is the obligation of the State to provide interpreters, on 29th September 2017 the Wolof speaking defendant himself provided an interpreter and agreed to be interrogated. At conclusion of his interrogation and on application by the criminal defence team co-ordinated by the Legal Centre, the court ordered that he be released with restrictive measures awaiting trial. The defense team argued that because of his health conditions, his residence in Moria Camp, lack of any criminal history, and the fact that he has been duly reporting to authorities and showing up to court each week for two months, he should not be detained awaiting trial. Both the public prosecutor and judge agreed. The court still has not provided a Bambara translator for the remaining three defendants, which means the preliminary procedure remains unconcluded, and all 35 continue to wait for a trial date to be set.
General Legal Updates
Decision of Greek Council of State sets dangerous precedent for forcible returns to Turkey under EU-Turkey deal
On 22nd of September, the Greek Council of State Plenary – Greece's highest administrative court – ruled that Turkey is a safe country. By a vote of 13 to 12, the court decided not to refer the question as to whether Turkey can be considered a "safe third country" for determination by the European Court of Justice. If the ruling is enforced, the applicants in this case will be the first to be officially forcibly returned to Turkey on the basis that it is a safe third country since the EU-Turkey Statement of March 2016: setting an extremely dangerous precedent. The concept of a 'safe third country' for the purposes of the Common European Asylum System is set out in Article 38 of the Recast Asylum Procedures Directive 2013/32/EU, which lists five principles that competent authorities must be satisfied that applicants for international protection will be treated in accordance with:
(a) life and liberty are not threatened on account of race, religion, nationality, membership of a particular social group or political opinion;
(b) there is no risk of serious harm as defined in Directive 2011/95/EU
(c) the principle of non-refoulement in accordance with the Geneva Convention is respected;
(d) the prohibition of removal, in violation of the right to freedom from torture and cruel, inhuman or degrading treatment as laid down in international law, is respected; and
(e) the possibility exists to request refugee status and, if found to be a refugee, to receive protection in accordance with the Geneva Convention
The Legal Centre has consistently denounced the EU-Turkey deal for its hypocritical, politically expedient reliance on the notion that Turkey – not even a signatory of the 1968 protocol to the Refugee Convention – can be considered a 'safe third country', given overwhelming evidence that each of five principles listed above are systematically violated by Erdogan's repressive authoritarian regime. Indeed, the Greek Council of State's decision came just as Amnesty International released a report documenting the heightened risk of violations of the principle of non-refoulement for refugees in Turkey since the state of emergency was put in place. 
Returns to Greece begin from Germany and other European states
The Legal Centre is concerned at recent moves made by Germany, the UK, the Netherlands, and other European states to resume returning refugees to Greece under the Dublin Regulation, which provides that the first European member state an asylum seeker enters is responsible for the examination of her application for international protection. Transfers back to Greece have been suspended since 2011, when decisions of the European Court of Human Rights and the Court of Justice of the European Union found that returns to Greece would amount to violations of the prohibition of inhuman or degrading treatment or punishment (Article 3 ECHR, Article 4 European Charter) in combination with the right to an effective remedy (Article 13 ECHR, Article 47 EC), due to systematic deficiencies in asylum procedures and reception conditions. As systematic violations of these standards continue and conditions deteriorate, any European country returning refugees to Greece will risk acting in violation of non-derogable human rights.
Detention of 28 nationalities in accelerated procedure
The Legal Centre condemns the policy being used by Greek authorities that keeps applicants for international protection from countries with "low rates of recognition" detained for the duration of their asylum procedure, which is also accelerated. This policy is in violation of international human rights law: amounting to discrimination on the basis of nationality, arbitrary deprivation of liberty, and precluding the right to effective access to procedures and effective remedy. The policy also violates procedural requirements of EU and Greek law, which explicitly prohibit holding people in detention for the sole reason that they have applied for international protection. Detention is only exceptionally permitted for limited time periods as a measure of last resort, under the specific circumstances set out in Article 46 of Greek Law 4375, which must be individually assessed in every case. The disturbing assumptions underlying this manifestly unlawful policy should be evident from the fact that a police circular describing the policy on 18th June 2016 termed people from "low rate of recognition" nationalities as "economic profile", as opposed to "refugee profile" applicants.