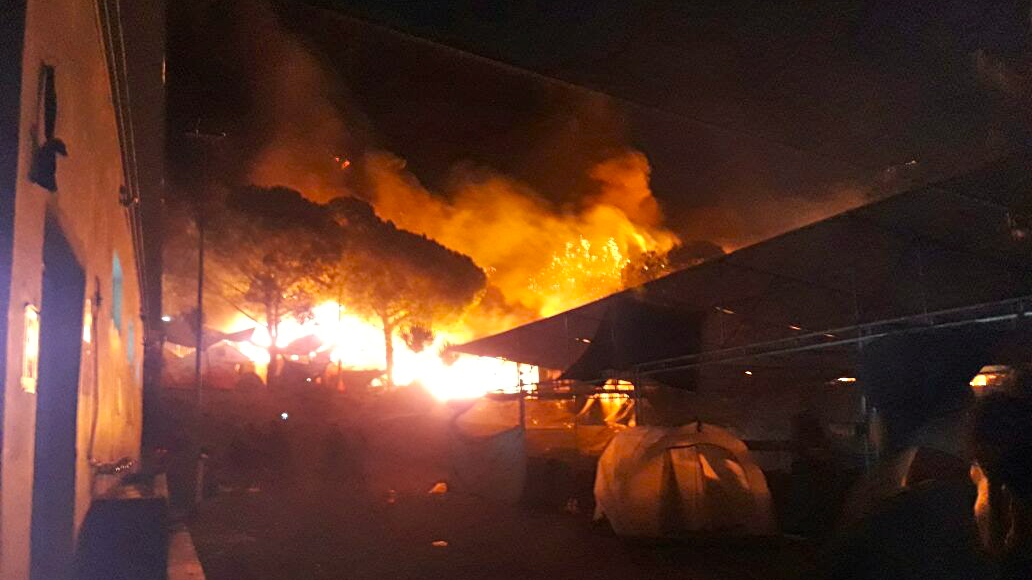 We, the Lesvos Legal Centre, publish this statement to call on Greek and EU authorities to protect the rights of all individuals seeking protection in Europe who have been subjected to detention at the Moria camp, where a fire spread on Monday 19 September, destroying a large section of the camp.
We are an independent group of lawyers and legally trained volunteers working with refugees and migrants on the Island of Lesvos, Greece. The individuals we assist have arrived to Greece after being forced to flee their home countries in Africa, Asia, and the Middle East. They all risk their lives, arriving by boat across the Mediterranean, and seek protection for themselves and their families. The reception they have received by the EU and Greece is unacceptable. The conditions and procedures imposed at Moria are a violation of human decency, the basic tenets of the Universal Declaration of Human Rights, the 1951 Refugee Convention and standards required by the Common European Asylum System framework.
In light of the widespread unrest and fire at Moria on 19 September, we are particularly concerned that this event will aggravate the existing precarious situation for all those seeking protection in Lesvos, and we call for immediate action to redress the following violations and prevent their reoccurrence:
The deplorable inhuman conditions on Moria and throughout Greece, and lack of security in particular for individuals with special needs, women and minors, violate Article 3 of the European Convention on Human Rights (ECHR) as confirmed by the European Court on Human Rights.
The EU-Turkey deal is contrary to ECHR Art. 3 and 1951 Refugee Convention Art. 33 prohibition of refoulement, as refugees and asylum seekers' rights are not guaranteed in Turkey, where hundreds of individuals have already been returned from Turkey to Syria, and individuals are regularly persecuted in Turkey due to their political opinion, social group, etc.
Unacceptable delays of several months for registration of claims for international protection violate EU Directive 2013/32/EU. During this delay, individuals are not benefiting from the rights guaranteed by the EU to asylum seekers, including the right to work, family reunification, and relocation in third Member States. This leaves them in a state of limbo, unable to move on their lives, and often relying on aid to survive.
Discrimination by nationality in registration processing times, in which certain nationalities are prioritized, clearly violates basic human rights principals.
The lack of human resources dedicated by the Greek government to inform applicants of their rights, and receive and process applications for international protection is in violation of applicants' right to information guaranteed in EU CEAS Directives. The Greek Asylum Service in Lesvos is currently inaccessible by email or phone, which means that requests or submissions can only be made in person from inside Moria camp, where there often is lack of adequate interpreters.
Currently, no free legal aid is provided to assist individuals submitting applications and attending interviews for international protection, nor in their second appeal, nor for minors appealing their designation as adults following an age assessment. This is in violation of Article 47 of the EU Charter of Fundamental Rights, which provides a right to legal aid to those who lack sufficient resources when necessary to ensure effective access to justice.
While long term solutions are needed to address economic, political, social, and environmental migration, in order to respond to the immediate situation we call upon the Greek State and the Members and Institutions of the European Union forthwith to:
Immediately release all those who have been systematically and unjustifiably detained in Moria camp without individual assessment for longer than is necessary for their identification.

Ensure that all those who have stated their desire to apply for protection in the EU are provided with the right to work, free movement at least within Greece and appropriate accommodation that respects their dignity and family life.

End deportation of asylum seekers to Turkey, and implement processing of applications for protection without delay and discrimination.

Provide all asylum seekers access to free legal assistance if they are unable to cover this cost on their own, to ensure effective access to justice.

Publish accounting of EU and Greek public funds dedicated to responding to the "refugee crisis," in order to increase accountability and transparency.
The fire and destruction in Moria camp on 19 September is indicative of an already volatile situation, and unless concrete action is taken, we are concerned that refugees and migrants will continue to face violations of their rights. We urge immediate action to protect the rights of refugees and migrants, and process their applications for protection in Europe in accordance with European and international law.
---