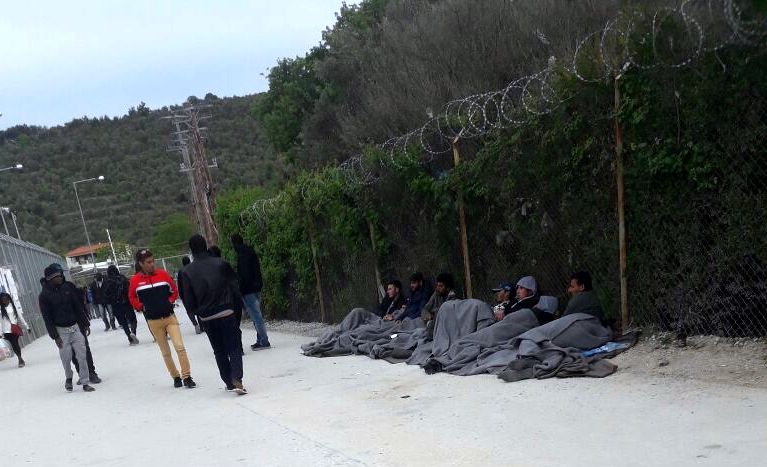 Eleven Kurdish Syrians and one Arab Syrian have begun a hunger strike in Moria Refugee Camp in Lesvos, protesting the rejection of their applications on admissibility grounds. The EU and Greek government do not deny that these and other individuals are refugees, yet they claim that Turkey is a "safe third country", and so reject their applications as "inadmissible". These individuals now face deportation to Turkey, where Kurds are systematically persecuted and repressed by the Turkish regime, and refugee rights are denied.
One of the hunger strikers is a minor, from Kobani, who is in Greece alone. Under Greek Law, as an unaccompanied minor he should be exempt from border procedures and shouldn't be subject to the admissibility procedures or deportation to Turkey. He has been trying to prove to the Greek Asylum Service that he is a minor, but doesn't have a way to get his birth certificate as he fled war-torn Kobani.
The Legal Centre has consistently denounced the EU-Turkey deal, and the deportation of refugees to Turkey based on admissibility.
Below find a statement from the hunger strikers, on the first day of their protest:
"We have been here sitting since the morning without food, without water, without anything. We are on an open hunger strike and we will not leave until we get our rights. Most of us have been waiting here for eight, nine months, and some even more than a year, and we have gotten nothing. We still have the red stamp [preventing us from leaving the island of Lesvos]. Some of us were rejected, and after appealing were rejected again, and we don't know what to do. We are told we could be sent back to Turkey, but we are Kurdish, from Syria. It is impossible and unsafe for us to be returned. The rest of us expect the same result – rejection. This is something that we refuse. The main problem is that we keep hearing the same word from the Asylum Office, "wait," nothing more. We cannot handle that any more. We can't wait any more. That's why we hope with this hunger strike that someone will listen to us and will give us our rights."
The Greek Asylum Office in Lesvos can be contacted at (0030) 22510 32323.
Please share and help spread the news.
---
UPDATE DAY TWO

---
UPDATE DAY THREE
All hunger strikers continue to refuse to drink water. One of the hunger strikers collapsed this afternoon from lack of water and food. He has been transferred to the hospital in critical condition, accompanied by a second hunger striker.