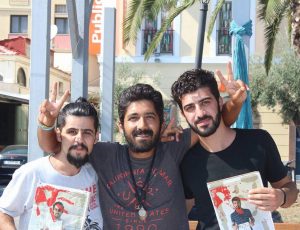 Freedom from Illegal Detention for Hunger Strikers

Moria 35 Update
Increase in Raids and Arbitrary Arrests
One Year Anniversary of Legal Centre Lesvos
Legal Updates:

Resumption of detention and accelerated procedure for individuals of certain nationalities
Continued violation of right to lawyer on appeal
Right to marriage for asylum seekers in Lesvos recognized
---
1. FREEDOM FROM ILLEGAL DETENTION FOR HUNGER STRIKERS
On Tuesday 8th August 2017, Behrooz Aresh and Kuzhin Hussein were released after enduring 35 days on hunger strike. With this victory, Arash Hampay ended his 41-day hunger strike, two weeks after his brother Amir Hampay was released from Moria Detention Centre on the 24th day of the hunger strike. The release of these three men from illegal, arbitrary detention is a victory for refugee rights in Lesvos and for the Lesvos solidarity movement. The hunger strikers victory also comes at an important time for resistance movements in Lesvos, given fear generated by authorities disproportionate response to demonstrations against human rights abuses, detailed in sections 2 and 3 below.
Amir, Behrooz, and Kuzhin are asylum seekers with cases pending in administrative court, and have committed no crime. On 28 June, after months in detention, and silenced by new restrictions limiting their contact with the outside world, the three prisoners were driven to start a hunger strike protesting their illegal detention. They were joined a day later by Amir's brother, Arash Hampay, who made his protest in public view from the main square of Mytilene.
Over the past month activists around the world, including from Mosaik Centre and the Legal Centre, have mobilised in solidarity with Arash Hampay and the prisoners on hunger strike. Arash made daily statements on social media and for international press, communicated with the imprisoned hunger strikers and stationed himself in Sappho square around the clock with signs in Greek and English, to amplify the demand for freedom. Activists spread awareness through solidarity hunger strikes, fought to ensure hunger strikers received adequate medical attention and protection from intimidation, and put pressure on the Greek authorities to release them. Solidarity actions, including a march from Moria Detention Centre to Mytilene on 8 July, a rally on the main street of Mytilene on 1st August and a peaceful protest outside Moria Detention Centre on 5 August, led to increased coverage. One member of European Parliament issued a statement in support of the prisoners' release.
The release of Behrooz and Kuzhin came just days after they broke their strike due to rapidly deteriorating health conditions. Behrooz had lost 30% of his body weight. Arash Hampay, whose health had been more closely monitored as he was not detained, decided to continue. He remained on hunger strike demanding the release of imprisoned hunger strikers for 41 days: breaking his hunger strike only when Behrooz and Kuzhin were finally released by court order, following petitions made by their Metadrasi lawyers.
The hunger strikers' struggle and eventual victory has succeeded in raising local and international awareness about arbitrary detention in Lesvos. However, the unlawful practice that landed Amir, Behrooz and Kozhein in detention, of indiscriminately detaining all applicants for international protection whose cases are rejected on appeal, continues to be applied systematically. International pressure to end this practice must be maintained. As Arash said, in a statement on the day of Behroos and Kuzhein's release:
"The heart of this victory is the people overcoming the state…The hunger strike ended today. We were victorious. [But] the struggle will always continue as long as injustice remains. Prisons still exist in our world and so do borders, which continue to separate people from each other."
Photo credits: Arash Hampay's Facebook
2. MORIA 35 UPDATE

35 individuals were arrested on Tuesday 18th July 2017 in Moria Refugee Camp, Lesvos, in raids following clashes with riot police using teargas and violence. The individuals arrested have been charged with serious crimes including arson, damage to property, and rioting, which carry lengthy prison sentences and could signify exclusion from international protection. There is mounting evidence that individuals were arbitrarily arrested on the basis of their race, nationality and presence in the camp at the time of police raids. There is also considerable evidence that police used excessive force during and after the arrest of these individuals. Amnesty International Greece has urged authorities to investigate police violence possibly amounting to torture. See our previous report for further details.
The Legal Centre Lesvos, supported by Lesvos Solidarity, provided representation to all 35 in their preliminary hearings, and is now working with a larger coordinated group of organizations and criminal defense lawyers to ensure the 35 receive adequate representation both in their defense, and in their complaints against the police for excessive use of force.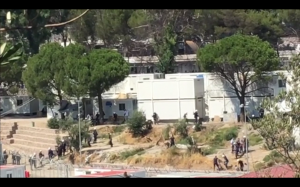 3. INCREASE IN RAIDS AND ARBITRARY ARRESTS
On the mornings of Monday 17th and Tuesday 18th of July, before the mass arrests, refugee communities largely from Sub-Saharan Africa organized peaceful protests in front of the European Asylum Support office in Moria, demanding freedom of movement for those who have been trapped on the island for over six months. Their demands are in line with International, EU and Greek constitutional law, which guarantee free movement rights. In fact, a recent administrative court ruling in Spain, found that restriction of asylum seekers to Ceuta (a city on the Northern coast of the African continent that was colonised and is now part of the Spanish State) was in violation of their constitutional free movement rights.
The protests calling for freedom of movement followed months of organizing peaceful resistance to state policies that continue to violate basic human rights in Lesvos. Refugee communities sent letters to European leaders, met with Greek authorities and European Parliament members and held peaceful demonstrations. Community leaders announced collective demands on Greek radio. The protests of July 17th and 18th were organised to take place during a week when an Action Camp organised by Lesvos Solidarity and Amnesty International to "shine a spotlight on the dire situation facing refugees trapped on Lesvos" had brought the attention of international media and activists to the island. Many refugee community leaders in Lesvos participated in this Action Camp, which culminated in a symbolic action denouncing the EU-Turkey deal responsible for trapping refugees on Lesvos.
On Monday 24th July, a week after the peaceful protests and subsequent mass arrests of the Moria 35, police carried out a coordinated pre-dawn raid of Moria Refugee Camp, where approximately 3000 refugees are currently living. From 5am, police surrounded the camp, preventing humanitarian workers from entering and proceeded to systematically search the ISO-box containers and tents, demanding refugees show applicant for international protection identity documents. 54 people were arrested during this raid. 21 of the arrestees were later released, while 23 were incarcerated in the detention centre in Moria. The apparently arbitrary nature of these raids and arrests raise concerns that authorities are employing a policy of intimidation calculated to instill fear and put a stop to refugees collectively organising to protest brutal conditions on the island; which is difficult enough in the face of a legal procedure that functions to divide people on the basis of nationality.
Increasing ID checks in the streets, combined with these raids and mass arrests have led to an increase in refugees seeking legal counsel in the Legal Centre as fear of arbitrary arrest grows. In the past month, we have taken on over 50 new cases, and over 80% of these new clients were referred to the Legal Centre by other refugees.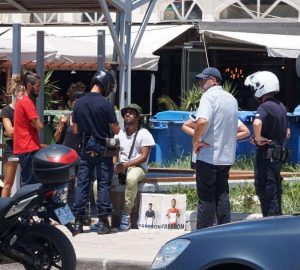 4. ONE YEAR ANNIVERSARY OF LEGAL CENTRE LESVOS
The Legal Centre opened its doors inside Mosaik Support Centre one year ago, in August 2016. With a small dedicated team of interpreters, Greek attorneys, and longÍ-term legally trained volunteers, we have provided individual consultation to over 500 individuals and families seeking refuge in Europe. We have always operated an open door policy, providing legal aid and information to all who seek our help, regardless of legal status or strength of claims for international protection.
Over the past year our work has evolved as the challenges facing refugees in Lesvos constantly change. To meet these challenges, we have now hired two Greek attorneys, who provide representation to refugees not only in asylum procedures, but also to advocate for refugees rights wherever they are violated, such as in criminal and administrative proceedings.
In addition to providing individualized access to legal advice, we support refugee-led activities to advocate for human rights protections in Lesvos and organised with refugee communities, local activists and solidarity groups in the fight against the long-term structural injustices of the European Asylum System.
5. LEGAL UPDATES

Resumption of detention and accelerated procedure for individuals of certain nationalities
Legal actors in Lesvos have raised collective concerns that authorities are detaining individuals upon arrival who come from countries with less than 25% acceptance rate for asylum. These individuals are also subject to expedited procedures for their asylum claim, sometimes to an extreme degree. In at least a few cases, the individuals arrived, had their interview the next day, were denied the day after the interview, appealed, and the examination of the appeal was scheduled a mere eight days after their arrival on the island. These individuals were detained throughout the process, with no medical attention and no access to legal services. Discrimination on the basis of nationality is prohibited by international law, while Article 46 of Greek Law 4375 provides that detention can be used only as a measure of last resort, for limited time periods, and must be individually assessed in every case. International law also mandates the right to due process and freedom from arbitrary detention.
Continued violation of right to lawyer on appeal
The Greek government continues to violate the rights of asylum applicants by not providing lawyers to represent them on appeal. Article 44 of Greek Law provides that "in procedures before the Appeals Authority, applicants shall be provided with free legal assistance", transposing Articles 19-23 of the 2013/32/EU 'Procedures Directive', which requires the same. Though Metadrasi resumed taking cases some time in late July, with only five full-time and one part-time attorney, they are at reduced capacity. Refugees who have been denied on the first instance continue to be bounced around to all of the legal actors on the island looking for representation after being told that Metadrasi doesn't have capacity to assist them. It appears that the situation will not improve in the near future. Metadrasi is funded at the current level through the end of 2017. The Greek government recently approved funding for 26 more lawyers to start in September nation-wide, but only one will be stationed on Lesvos. The funding level for legal aid was based on the needs assessment from 2014, before individuals arriving to Lesvos were prevented from travelling to the mainland.
Since late June 2017, the Legal Centre has consulted at least 17 individuals whose cases were rejected who have been told there is no lawyer available to represent them on appeal. Because the Legal Centre has limited capacity, we prioritize providing legal aid where people don't have the right to a lawyer provided by the Greek State, as they do at this stage of the appeal. With only two Greek attorneys in our office, we also did not have capacity to assist these individuals. They are being denied their right to access to justice, and risk being denied on appeal and potentially deported to countries where they could face persecution.
Right to marriage for asylum seekers in Lesvos recognized

In late July, attorneys from HIAS won an important case regarding the right to marry. Previously, asylum seekers in Lesvos were denied marriage licenses, no matter the legal status of their intended spouse. The individuals that HIAS represented were an asylum seeker and an individual with legal residency as a refugee who had been denied a marriage license. The asylum seeker did not have a certificate of no impediment or any other document from her country of origin certifying her age. The court noted that refugees by definition have a damaged relationship with their home country, and should not be expected to provide these documents. It stated that the Greek State must be flexible and open-minded in these cases to protect the fundamental rights of refugees such as the right to family. In place of a certificate of no impediment, a statement that there is no impediment for the individual concerned is sufficient.