European policies of exclusion and xenophobia were in the media's spotlight last year with the implementation of the EU-Turkey Statement, leaving families trapped at borders and in inhumane living conditions in border regions. With payments of handsome sums to Turkey to guard its borders and stop sea crossings, we no longer see the dramatic footage of thousands of people arriving on Europe's shores and crossing borders in search of safety. Media fatigue has meant that most international press has left Lesvos and other hotspots, where inhumane living conditions persist. Europe has 'succeeded' in preventing most of those fleeing war, persecution, and extreme poverty from ever reaching Europe, and likewise has succeeded in keeping Europe's disgraceful treatment of refugees and migrants (many of them fleeing NATO and the US's imperialist policies in their home counties) far from scrutiny.
Even those who now arrive in Europe are being kept out of sight, housed in camps far away from urban centres. In a vigorous attempt to keep refugees and migrants out of Europe at any cost, policies are made to encourage the "voluntary return" of individuals kept waiting months for results in their applications for international protection. The International Organization of Migration (IOM) is involved in encouraging the 'voluntary' return of asylum seekers to their home countries "at the earliest possible stage" after arrival in the Greek islands1 and new policies further coerce asylum seekers to give up their right to appeal in exchange for assisted voluntary return with IOM.  Between January and March of 2017, 212 people on the Greek islands opted to withdraw their applications for international protection and return to their home countries.2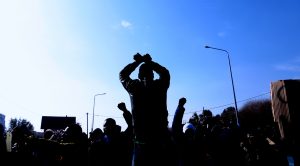 Mytiline, 3 April 2017, Protest of IOM policies of assisted voluntary return, limiting right to appeal
The results of these polices are tragic. One asylum seeker, Bilisumma*, was living in Moria Refugee Camp in Lesvos for six months, and was still waiting to submit his application for international protection.
Before he fled Ethiopia in 2016, Bilisumma was an active leader in the Oromo community. He was one of the founding members of GDSAO (an organization that promotes Oromo culture) in his high school, and he was active in the Oromo Liberation Front, fighting for Oromo rights and against exploitation of Oromo land and people by the Ethiopian government and multinational corporations. Bilisumma was arrested and tortured many times for his activism, and Bilisumma's father, cousin, and countless friends were killed by the Ethiopian regime.
Because Bilisumma feared for his own life he fled to Europe in 2016. However, Europe did not provide Bilisumma the refuge that he should have been guaranteed by law. During the six months he was waiting to register his application for international protection, he did not have the right to work in Greece, the right to leave the island or to rent housing in Lesvos. Essentially he was detained in Moria Refugee Camp in a state of limbo. Undiscouraged by this uncertainty, he applied and was accepted to university in the United States, but because he was prohibited from leaving the island of Lesvos he was unable to access the U.S. Consulate to secure a visa. Without any guarantee of when his application for refugee status would be processed, Bilisumma made the difficult decision to return to Ethiopia through IOM's voluntary return program, and attempt to get a visa from there, stating,
"I've decided to go back to Ethiopia. I know I could be put in prison and be tortured, but I'm in a prison here and people are dying in this prison too."
In February of 2017, six hours after he arrived in Ethiopia, Bilisumma was arrested while reuniting with his mother and family in Addis Ababa. He was taken to an Intelligence Agency black site where he was held and tortured for over two weeks. He was regularly beaten and insulted, and was denied all food except for a small amount of bread and water each day. The Ethiopian government accessed all of his accounts, contacts, and files from his cell phone, and when he was finally released he was under house arrest and was warned that if he contacted the press or anyone outside Ethiopia he would be killed. When he was able to make contact outside of Ethiopia using secure communication systems, he sent the following final plea:
"I understand that they will kill me after they will finish all their investigation . . . Am on the verge of death now,no one can help me now!! I will give the phone number of someone who can tell you when i will be killed! Am counting down days to die! I cant fled anymore! Am frustrated,i gave up! I understand that my journey of life is finished!!"
Four months later, Bilisumma has managed to escape, and is now in a secure location outside Ethiopia. Many other Oromo activists have not been so lucky. But this tragedy could have been avoided if Europe had not failed in its duty to provide protection to people like Bilisumma who are fleeing persecution.
Europe continues to fail asylum seekers
Just this week, on 13 June 2017, Sher Agha*, signed with IOM to voluntarily return to Iran. It is not the first time he is withdrawing an application for international protection. In 2009, he had applied for protection in the UK, but when his mother fell gravely ill he decided to return to Iran in order to see her. The reunion with his mother was delayed, as he was arrested in the Tehran airport immediately upon arrival. He was held for over four years in Evin prison, where he was brutally tortured and held in solitary confinement, accused of being a spy. While Sher Agha knows that he will likely be arrested when he returns to Iran again now, he believes that this fate in Iran is better than the life he has been living for nearly a year in Greece.


Evin Prison in Iran, where Sher Agha was held over four years
Reza has severe mental health problems that have been aggravated by the torture he suffered in Iran. He is unable stay in a crowded camp environment like Moria Refugee Camp without inducing anxiety attacks. Just speaking about life in Moria causes Sher Agha to break out in a sweat, and after most meetings discussing the trauma he has undergone he "just needs to find a quiet place."
Finding this quiet place has proved impossible in the overcrowded Moria Refugee Camp, and difficult in Lesvos. Sher Agha has been racially profiled, arrested, and beaten by Mitilini police on several occasions.
"I thought police in Europe would be different than in Iran,"
he stated after one such beating that left a welt on his head and a large purple bruise on his leg. In March of 2017, the Greek Asylum Office designated Sher Agha as vulnerable as a victim of torture, and because of his documented severe mental health problems.
As a vulnerable individual, by law, Sher Agha's case should be prioritized, but his interview on his claim for international protection is not until November of 2017 – more than fifteen months after his arrival in Greece. Also, by law Sher Agha should be provided with adequate accommodation while his application for refugee status is pending; instead Sher Agha has been left to fend for himself. While months ago UNHCR received documentation of Sher Agha's health problems and inability to live in Moria, he has not been provided housing outside Moria Camp and is living on the street in Lesvos. The legal process to challenge Sher Agha's treatment by the Greek government and agencies is not quick enough to account for Sher Agha's desperation. Instead of waiting for his rights to be realized, he has been forced to give up his rightful claim to protection, and return to Iran where he faces almost certain imprisonment. Sher Agha hopes that his documented mental health condition will be enough to keep him out of prison, but he acknowledges that this was not enough eight years ago when he returned from the UK.
I asked Sher Agha how he feels after he came to inform our office about his decision to return to Iran. "I'm tired," he states as he scrolls through pictures on his phone of Rikers Island and Guantanamo.
---
* Names changed to protect identity
1. "IOM with EU support to intensify campaigns promoting AVRR among migrants at the earliest possible stage." Fourth Report on the Progress made in the implementation of the EU-Turkey Statement, Annex I, European Commission, Brussels, 8.12.2916 COM (2016) 792 final, https://ec.europa.eu/transparency/regdoc/rep/1/2016/EN/COM-2016-792-F1-EN-ANNEX-1-PART-1.PDF
2. Fifth Report on the Progress made in the implementation of the EU-Turkey Statement, Annex I, European Commission, Brussels, 8.12.2916 COM (2016) 792 final, https://ec.europa.eu/transparency/regdoc/rep/1/2017/EN/COM-2017-204-F1-EN-ANNEX-1-PART-1.PDF